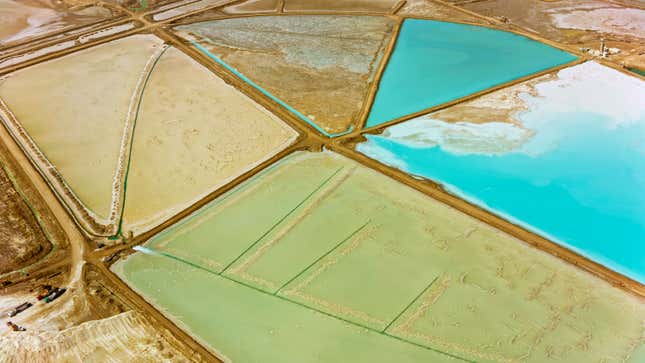 Back in the late 19th century, prospectors from all over converged on the West Coast of the United States in search of one thing: Gold. Some found it, some didn't, but many built entire towns in their search. Now, a new line of prospectors has reinvigorated those towns in search of the modern world's most precious metal: Lithium.
There's Not Enough Lithium for All These EVs
A new report from Vice delves into the world of lithium prospecting in Nevada, one of the U.S.'s most fertile grounds for the mineral. The investigation focused on the town of Tonopah, which has seen life as a mining town for silver, gold, and now lithium.
But Nevada's lithium rush is unique. The state's mineral deposits aren't enshrined in rock, the way precious materials are in Minecraft. Instead, they're spread throughout layers of clay, from which lithium has never been successfully removed at a large scale. Yet prospectors are staking claims anyway, calling dibs on land in hopes that mining tech will catch up to their needs.
Even if the tech does exist, it could make for an ecological disaster. Vice broke down exactly how bad things could get:
If a mine were to extract lithium from clay deposits near Tonopah — which no one's ever done at industrial scale — it would likely be an open-pit operation, a method also used for coal mining. These mines would involve what is essentially a massive hole that expands across the desert. A more responsible company will fill the hole back up once it's done mining. Other companies could allow the holes to fill with rainwater, which would become toxic. A proposed new law in Nevada would require mining companies to backfill the holes they dig and prevent the creation of new pit lakes, but right now, open-pit mines in Nevada are not required to backfill.

Lithium mining has made its footprint in Nevada, and seems to only be growing. But, when the rush slows to a trickle, will the people of the state be forced to deal with tainted water and soil? Give Vice's piece a read for the full investigation, but it'll likely be some time before all these questions get answers.