Neil Young has decided to make himself an example of how hybrid electric cars can be produced with existing technology and without the loss of style with his Lincvolt, an all-electric version of the awesome 1959 Lincoln Continental Mark IV Convertible. He's been working with noted alternative energy nerd Johnathan Goodwin and his company, H-Line Conversions, to develop the car, in current form an electric with an on-board compressed natural gas generator. Young wants the 5,000 pound, 19.5 foot long convertible to be an example to everyone that you can convert any car to run cleaner.

G/O Media may get a commission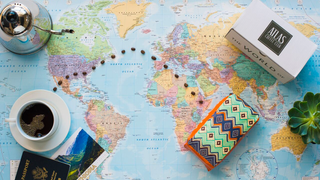 First Bag Free
Atlas Coffee Club - Free Coffee
Explore global coffee
With each bag, Atlas includes details on the coffee's tasting notes and a postcard about the region and its coffee history. And when you subscribe, you have options to tailor frequency, grind size, and roast preference of your beans, so you'll always be brewing the perfect cup.
The Lincvolt will be entered into the Progressive Automotive X-Prize competition and make an attempt at 100 MPG equivalent fuel economy - a far, far cry from the original mileage. You can learn more about the car and see it's live unveil over at the project website: Lincvolt.com. [Telegraph.co.uk]