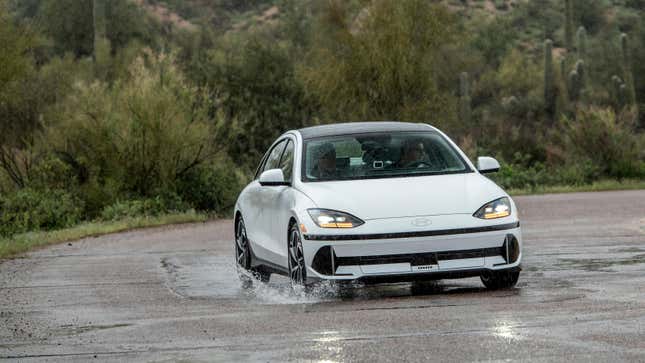 Ahead of the 2024 model year the IIHS stepped up the requirements for its highest Top Safety Pick+ award. Previous winners aren't grandfathered into the award and must increase their safety standards to continue to be sold as a TSPP awarded automobile. Notably, this year the independent, nonprofit scientific and educational organization dedicated to reducing deaths, injuries, and property damage is requiring more strict side-impact test results and has added a new nighttime vehicle-to-pedestrian test. Only 51 cars have earned the award this year, and a full ten of them are electric.
In addition to the Audi Q4 E-Tron, Q8 E-Tron—and sportback variants thereof—Genesis GV60, Rivians R1S and R1T, Subaru Solterra, Tesla Model Y, and Volkswagen ID.4, the new test added Genesis GV70, Hyundai Ioniq 6, and Lexus RZ to the list.
"It's exciting to see three new EVs from different brands with the highest level of safety," said IIHS president David Harkey. "Making sure safety continues to be a priority in alternatively powered vehicles is critical if we are going to achieve the vision of zero traffic fatalities." He added that a majority of fatal pedestrian crashes happen after the sun goes down, noting, "To be environmentally friendly, our vehicles and our cities also need to be pedestrian-friendly."
To get the IIHS TSPP award, a vehicle must get high marks in three different front and side-impact crash tests. Vehicles are also tested on pedestrian impact in day and night scenarios, plus offer appropriately bright headlights across all trim levels of that nameplate.
It makes sense that electric vehicles score well in crash testing. The batteries are mounted low, and there isn't a giant lump of engine in the front to build around. EVs are able to build big deflection and crumple zones into their front structures, protecting both the occupants and pedestrians alike. Yet another reason electric cars are great daily commuter vehicles.