The US Navy just announced that it has successfully integrated unmanned and manned carrier operations for the first time. This is huge, as it's pretty much the first step in how the Navy will work not for the next few years, but probably for the next few decades.
This news is the result of the second phase of X-47B shipboard testing.
These second round of tests include having the super-robot taxi around the deck with other aircraft operating nearby, as well as recovering and clearing the landing area in a mere 90 seconds so that manned aircraft can land.
From the flight test director for the X-47B himself, Lt. Cmdr. Brian "Dumpy" Hall:
In a few days I will fly our squadron's F/A-18 Hornet 90 seconds behind the X-47B in the carrier recovery pattern. From the cockpit, I'll watch the X-47B make its way back to the ship, with full confidence that it will land with accuracy and precision as good as what I will execute behind it when my turn comes. It will provide me great satisfaction to see the X-47B raise its hook, fold its wings and be taxied out of the landing area providing me a clear deck to recover my F/A-18.
G/O Media may get a commission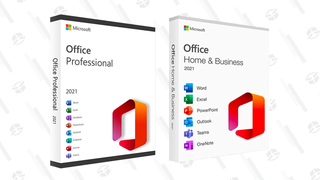 95% off
Cyber Monday - Lowest Price Ever - Microsoft Office Lifetime License
The times they are a chagin' ladies and gentleman. Stay tuned for a comprehensive post of the truth about the future of unmanned aerial warfare.
Tyler Rogoway is a defense journalist and photographer who edits the website Foxtrot Alpha for Jalopnik.com You can reach Tyler with story ideas or direct comments regarding this or any other defense topic via the email address Tyler@Jalopnik.com