Corvette enthusiasts are known world-wide for their passion towards America's sports car and the lifestyle it inspires, but some people take their love for this car beyond the extra mile.
Such a person was businessman and Montoursville, PA resident, Donald L. Messner, who made arrangements for his Corvette collection to be gifted to the National Corvette Museum upon his passing.

In business Don was known for his focus, determination and ability to make things happen. In his personal life, he was equally determined to make the most of it, enjoying a wide variety of activities including scuba diving, horses, racing, power boating, radio control airplanes, fishing, hunting and Corvettes.


Don's love for Corvettes led him on a search to acquire low mileage, rare cars that were in excellent condition. Over the years, as his collection grew, he had a special climate-controlled garage built for them that he called The Toy Box.

In January of 2012 Don was diagnosed with melanoma. Knowing it was incurable; he continued to enjoy life as much as he was able. He joined the Museum for the exclusive unveiling of the 2014 Corvette Stingray at the Chevrolet Media Event in Detroit, and traveled to the National Corvette Museum to take delivery of his 2013 Corvette, as well as a visit to the Corvette Assembly Plant. While at the Museum, he decided that it was the best place to permanently display his Corvette collection.

For his wife Marlene, she is gratified to see Don's collection going to the Museum to be enjoyed by the thousands of visitors who visit annually.

"He said he wanted to plant a seed. He wanted others in similar situations with rare Corvettes to see the Museum as a place for them. Most of all, he wanted to inspire future generations to work hard to buy their own Corvettes some day so that they, too, could enjoy the lifestyle that goes with owning them."

The Corvettes in the Don Messner Collection include:
-1965 grey coupe, custom race built Corvette
-1967 427 convertible Corvette
-1969 convertible/hard top Corvette
-1989 coupe Corvette
-1990 ZR-1 Corvette
-1996 Collector's Edition Corvette
-1996 Grand Sport Corvette
-2000 convertible Corvette
-2008 Z06 Corvette
-2013 60th Anniversary Corvette with R8C Museum Delivery

Don passed on May 22, 2013, but he has left behind a stunning collection of cars that will demonstrate his love of Corvette to others for years to come. "When people see these cars," Marlene says, "I want them to remember Don Messner and his legacy. He was an amazing and very generous man."

A special exhibit of these cars will be held in the Museum Exhibit Hall from May 10-September 12, 2014.

For more info on this or other upcoming exhibits at the museum, visit the website at www.corvettemuseum.org or contact the museum at 270-781-7973.

About the National Corvette Museum:
Since 1953 the Corvette has been America's Sports Car. The National Corvette Museum was established as a 501(c)3 not-for-profit foundation with a mission of celebrating the invention of the Corvette; preserving its past, present and future; and educating the public about Corvette.

The National Corvette Museum is open daily from 8 a.m. to 5 p.m. CT. The Museum is located at Exit 28 off I-65 in Bowling Green, KY. For more information on the National Corvette Museum, visit our website at: www.corvettemuseum.orgor call (800) 53-VETTE (83883).
G/O Media may get a commission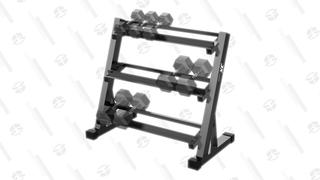 20% Off
JX Fitness Dumbbell Rack
Gains but tidy
Has a three-tier design to help store more weights more conveniently, can safely support up to 1000lbs of weight, which should be enough for most people, has a triangle base for stability, and also features anti-scratch feet which is great if you've built your own studio or workout in your garage.
Source: National Corvette Museum