As if NASCAR's truck series wasn't already ridiculous enough, a pair of fried-and-died "blondes" fresh out of cosmetology school plan to hit the track. Meet Angela and Amber Cope, two individuals we couldn't make up if we tried.

We don't envy female drivers as they're always more noticed for their looks than performance, but the Dior glasses and Jersey Shore-esque tans don't really help their contention that their idea isn't to become models instead of racers. Also, stories like this one from Nascar.com don't help:
Angela and Amber Cope, twin sisters and the nieces of 1990 Daytona 500 winner Derrike Cope, are on a mission to show NASCAR that you can beat and bang on the race track and look hot at the same time.
We're fairly sure we've never seen a story about Dale Earnhardt, Jr. trying to look both "hot" on the track and perform even though, arguably, he's fairly hot.
As the nieces of a Daytona 500 winner it might be possible the genes have been passed down, Andretti-style, to a new generation. They've got experience so maybe they're actually great drivers who just happen to look a bit ridiculous. Or maybe this is all just one sideshow in the big NASTruck circus.
G/O Media may get a commission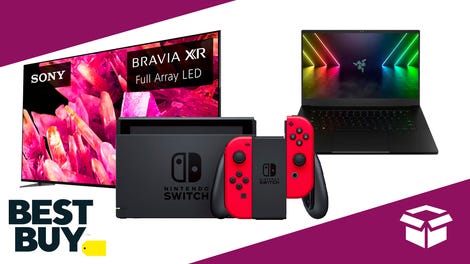 Three Day Sale!
Best Buy - 3-Day Sale
"STEP RIGHT UP, SEE TWO "BLONDES" IN ONE TRUCK. WHOA NELLY, WHAT A SHOW!"
(Photo Credit: Twin Motorsports Racing)