Welcome to the Jalopnik Weekend Motorsports Roundup, where we let you know what's going on in the world of racing, where you can see it, and where you can talk about it all in one convenient place. Where else would you want to spend your weekend?

It's time again for the NASCAR All-Star Race, in which drivers who qualify will race a wacky format—that usually stresses everyone, including the competitors, out—for $1 million. Hey, I'd be stressed for $1 million. Sounds like a good deal.
But this year, the format looks even weirder than usual. In addition to the extra stages and eliminations, NASCAR will give teams the choice between the regular tire compound and a soft tire. If you're not familiar with NASCAR, there usually isn't any choice between tires. You get your Goodyears—the same ones, for everyone—and you go.
If you're looking for something less wacky, the Verizon IndyCar Series will qualify for the Indianapolis 500 this weekend. Drivers get an entire week to ponder their starting spots, and the big show will be next Sunday.
The MotoGP World Championship will head to France for its race this weekend. And if you're into being a MotoGP champion off the bike, the series will actually crown a video-game champion at its season finale this year. The fastest digital motorcycle rider on the new MotoGP video game, strangely, gets a car.
G/O Media may get a commission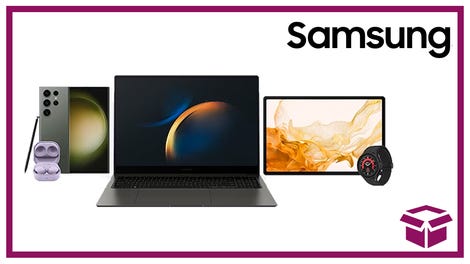 24 hour deals
Discover Samsung - Daily Deal
The FIA Formula E Championship race from Paris and the ARCA Racing Series will be on this weekend, both on same-weekend delay. They're listed under the "live" column because of that, if you're looking for them.
You can catch select parts of the FIA World Rally Championship event from Portugal via an online stream this weekend as well. Also streaming will be two different drag-racing events, one from Kentucky and the other from South Carolina, and the Super GT race from Autopolis circuit in Japan. Stream links can be found on the schedule below.
If you know of any additional racing events or streams going on this weekend, please feel free to share in the comments below.
All times ET.
Top Live Events
---
FIA Formula E Championship: Qatar Airways Paris ePrix on the streets of Paris, France
Saturday
6 a.m. — Qualifying coverage (four cameras) on Fox Sports Go
8 a.m. — Qualifying (delayed) on Fox Sports 2
11:30 a.m. — Race coverage (same-weekend delay) on Fox Sports 1
11:30 a.m. — Race coverage (same-weekend delay) on Fox Sports Go
Sunday
11 a.m. — Race coverage (same-weekend delay) on Fox Sports 1
---
MotoGP World Championship: HJC Helmets Grand Prix de France at Le Mans Bugatti Circuit in Le Mans, France
Saturday
6:35 a.m. — Moto2 qualifying on beIN
8 a.m. — MotoGP qualifying on beIN
8:30 a.m. — MotoGP qualifying on beIN
9 a.m. — Moto2 qualifying on beIN

Sunday
4:50 a.m. — Moto3 race on beIN
6:10 a.m. — Moto2 race on beIN
7:50 a.m. — MotoGP race on beIN
---
NMCA: Bluegrass Nationals at Beech Bend Raceway Park in Bowling Green, Kentucky

Saturday
8:30 a.m. — Coverage on SpeedVideo
Sunday
8:45 a.m. — Coverage on SpeedVideo
---
FIA World Rally Championship: Vodafone Rally de Portugal
Saturday
9:50 a.m. — Super Stage coverage on Red Bull TV
5 p.m. — Daily recap on Red Bull TV
Sunday
5 p.m. — Daily recap on Red Bull TV
---
PDRA: Spring Nationals at Darlington Dragway in Darlington, South Carolina

Saturday
10 a.m. — Coverage on SpeedVideo
---
NASCAR Camping World Truck Series: North Carolina Education Lottery 200 at Charlotte Motor Speedway in Concord, North Carolina
Saturday
1 p.m. — Race (delayed) on Fox Sports 1
---
NHRA: Menards NHRA Heartland Nationals at Heartland Park Topeka in Topeka, Kansas
Saturday
3 p.m. — Qualifying on Fox Sports 1
Sunday
9 a.m. — Qualifying (delayed) on Fox Sports 2
10 a.m. — Qualifying (delayed) on Fox Sports 2
2 p.m. — Coverage on Fox Sports 1
7 p.m. — Coverage (delayed) on Fox Sports 2
10:30 p.m. — Coverage (delayed) on Fox Sports 1
---
Monster Energy NASCAR Cup Series: Monster Energy NASCAR All-Star Race at Charlotte Motor Speedway in Concord, North Carolina
Saturday
4 p.m. — NASCAR RaceDay on Fox Sports 1
5:30 p.m. — NASCAR RaceDay on Fox Sports 1
6 p.m. — Monster Energy Open on Fox Sports 1
7:30 p.m. — NASCAR RaceDay on Fox Sports 1
8 p.m. — Race on Fox Sports 1
Sunday
12 p.m. — Race (delayed) on Fox Sports 1
---
Verizon IndyCar Series: Indianapolis 500 at Indianapolis Motor Speedway in Indianapolis, Indiana
Saturday
4 p.m. — Qualifying on ABC
---
ARCA Racing Series: Menards 200 at Toledo Speedway in Toledo, Ohio
Saturday
5 p.m. — Coverage (same-weekend delay) on Fox Sports 1
---
Super GT: Autopolis in Hita, Japan
Sunday
1 a.m. — Coverage via YouTube live stream
---
Top Delayed Or Re-Aired Events
---
Saturday
12:30 a.m. — NHRA Southern Nationals on Fox Sports 1
10 a.m. — Lucas Oil American Sprint Car Series at Texas Motor Speedway on MAVTV
1 p.m. — Lucas Oil American Sprint Car Series at Texas Motor Speedway on MAVTV
3 p.m. — Lucas Oil Late Model Dirt Series from Bubba Raceway Park on MAVTV
7 p.m. — Lucas Oil Pro Motocross Championship from Hangtown on NBC Sports Network
Sunday
2 a.m. — Lucas Oil American Sprint Car Series at Texas Motor Speedway on MAVTV
2:30 a.m. — Indy Lights from Indianapolis Motor Speedway on NBC Sports Network
5 a.m. — Lucas Oil Late Model Dirt Series from Bubba Raceway Park on MAVTV
12 p.m. — FIM Motocross MX2 race from Germany on CBS Sports Network
1 p.m. — FIM Motocross MXGP race from Germany on CBS Sports Network
2 p.m. — Formula Drift from Long Beach, California on CBS Sports Network
2 p.m. — Lucas Oil Off-Road Racing Series at Glen Helen Raceway on MAVTV
3 p.m. — FIM Motocross MX2 race from Germany on CBS Sports Network
4 p.m. — DTM Championship from EuroSpeedway Lausitz on CBS Sports Network
5 p.m. — Lucas Oil Off-Road Racing Series at Glen Helen Raceway on MAVTV
6 p.m. — FIM Motocross MXGP race from Germany on CBS Sports Network
7 p.m. — Lucas Oil Late Model Dirt Series from East Bay Raceway Park on CBS Sports Network
8 p.m. — Lucas Oil Late Model Dirt Series from Bubba Raceway Park on CBS Sports Network
11 p.m. — DTM Championship from EuroSpeedway Lausitz on CBS Sports Network