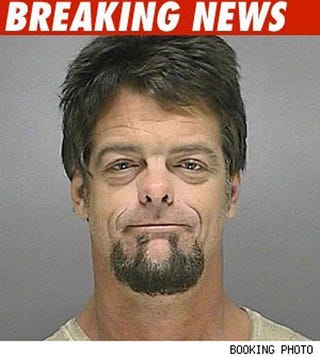 A blasted-looking J.C. France, grandson of NASCAR founder Bill France and Grand-Am racer, was arrested in Daytona Beach with his "housemate" for an illegal trifecta: drug possession, street racing and DUI. Yup, Cocaine is a hell of a drug.
Police stopped France and his housemate Russell Van Richmond for racing a Porsche Cayenne against a green Lamborghini across Seabreeze bridge. When they were pulled over Richmond, who is the son of one of J.C's dad's ex-wives, protested saying "I want your commander now. I am a France. Do you know what that means? We own this city."
It apparently didn't impress police because France was allegedly so drunk he could barely climb out of the car and had a bag of a "white, cakelike substance" in his pocket.
Richmond kept screaming to the police "I am gonna have your job. This is the biggest mistake ever. You are so done in Daytona." How Ironic.
According to reports, Richmond's last words to police were "Oh, shit" when they searched his pockets and found a tablet of hydrocodone.
Our favorite quote, though, was from an unidentified woman in Richmond's Porsche who told police he was "going so fast, I put my seatbelt on." We're pretty sure you should wear a seatbelt anytime you go out for a drive with a coked out, drunk person.
France has been suspended from Grand-Am indefinitely.
[Daytona News-Journal, Photo Credit: TMZ]