DAYTONA BEACH, Fla. (Oct. 29, 2013) – Two of the world's leading innovation conferences have invited NASCAR Senior Vice President of Racing Operations Steve O'Donnell to serve as a panelist. O'Donnell will participate in a discussion at Harvard Business School's Cyberposium onNov. 2 about how technology will help transform sports and other industries over the next several years.
On Nov. 20, he will join a panel focused on ways to create and nurture sustainable innovation at the World Innovation Convention in Cannes, France.
"From the track to the office, for our fans and partners, we're injecting technology and interactivity into nearly every facet of the NASCAR experience," said NASCAR President Mike Helton. "With innovations such as the Air Titan track drying technology, continued safety improvements, and the state-of-the-art Fan & Media Engagement Center, NASCAR has become a great place where technologies are validated. We also feel the best is yet to come, as we're excited with the progress we're making on our officiating technology project, which will inject exciting new elements into our competition in 2014 and beyond."
Cyberposium, now in its 19th year, is billed as the largest MBA technology conference in the world. The conference facilitates an interactive network of current and future business leaders to engage in provocative dialogue about technology. For more information, visit www.cyberposium.com.
The World Innovation Convention at Cannes is a platform for global innovators who join to collaborate with industry peers and experts. The direct mission of the conference is to learn, share and discover how innovation happens faster and better within their organizations. For more information, visitwww.winovc.com.
G/O Media may get a commission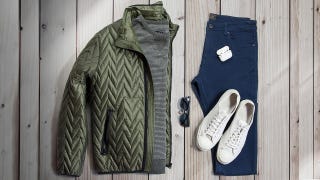 60% off
Jachs NY Fall Sale 60% Off
NASCAR's high-tech R&D Center in Concord, N.C. continues to serve as a model for innovation throughout all of motorsports. Earlier this year, NASCAR announced the addition of Gene Stefanyshyn as Vice President of Innovation and Racing Development to oversee that facility. Stefanyshyn brings more than 30 years of engineering and innovation leadership from General Motors to NASCAR. The R&D Center has generated nine U.S. patents.
The Air Titan was developed in-house at the R&D Center. Following testing in the summer and fall of 2012, Phase 1 of the technology was on-site at Daytona International Speedway in February. Earlier this month, NASCAR announced Air Titan will be available during every NASCAR Sprint Cup Series race in 2014. As part of its research and development, NASCAR also identified a track conditioning value from the use of Air Titan whereas the technology cleans dirt, grime and other materials found in a track's surface.
With safety enhancements that range from safer cars to the enforcement of the HANS device to the installation of SAFER barriers, as well as ongoing innovation each year, NASCAR has continued to put a premium on driver and fan safety. Its work in that space has significantly elevated the safety across all motorsports. NASCAR's research, specifically in crash analysis, has been recognized in partnerships with NASA, Toyota's Total Human Model for Safety (THUMS) and the U.S. Air Force. Leaders in the sanctioning body's critical safety engineering group have authored several research papers in peer review journals.
NASCAR, the No. 1 recycler in sports, just celebrated the fifth anniversary of its heralded NASCAR Green platform. Through strategic partnerships with teams, tracks and Official Partners, NASCAR Green continues to set new benchmarks. NASCAR features the world's largest solar-powered sports facility, a tree planting program capturing 100 percent of the emissions produced by on-track racing, and the largest recycling program in sports that includes such partners as Coca-Cola, Coors Light, Creative Recycling, Goodyear, Safety Kleen, Liberty Tire and Sprint. Additionally, NASCAR has put nearly five million tough, competition miles on Sunoco Green, a biofuel comprised of 15 percent ethanol made from American-grown corn, which has reduced emissions in all its racing series by 20 percent.
The NASCAR Fan and Media Engagement Center (FMEC) is a revolutionary resource that allows NASCAR to analyze what's discussed and written about the sport in social, traditional, and broadcast media. The system aggregates digital content that is relevant to the NASCAR industry, and allows NASCAR to analyze and respond to trends in real time. The FMEC facility is part "broadcast control room," part "NASA Command Center," powered by a sophisticated media monitoring and measurement system custom-built by HP.
Source: NASCAR