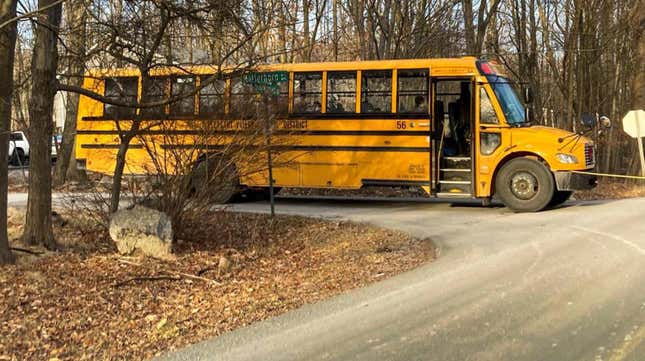 A Pennsylvania man had a hell of a Tuesday morning after he led police on a wild chase across three counties in a stolen school bus, then on foot while also stripping off all of his clothes. Oh and there just happened to be a dead deer in the back. Charming.
Pennsylvania State Police out of Gettysburg got a nice early workout after they spotted a rogue school bus driving around a parking lot at 7 a.m. Tuesday morning, ABC 6 reports. The school bus stolen that very morning by one Tony Saunders that very morning. What happened next was a strange high speed chase over Adams, York, and Cumberland counties in Pennsylvania:
At first, officers say the bus pulled over near the PA Turnpike but shortly after pulled away, starting a chase with police.

Authorities say the bus later passed an exit for Lower Allen Dr. and exited the highway.

At this point, police say Saunders then drove over a berm, almost flipping the bus.

Saunders then drove the vehicle onto Gettysburg Drive and turned into a nearby neighborhood, where he exited the bus and ran from police.

Officers say as Saunders ran, he stripped off his clothes until he was fully naked, running through numerous parking lots and busy traffic areas.

Police say Saunders was then arrested nude and later admitted to taking the bus earlier Tuesday morning after crashing a BMW vehicle.

That's quite a morning. What was inside the bus made things even stranger—a dead deer, which Sanders told police he was planning to use to fertilize his garden.
Sanders earned himself a stay in York County jail on charges of fleeing an officer, receiving stolen property, reckless driving, and resisting arrest. Anyone want to bet a toxicology report might add driving under the influence to those charges as well?