If you're the reigning 2017 IMSA WeatherTech Sports Car Championship champs with an open seat to fill for 2018, you've got to fill that hole wisely. Fortunately, the driver behind the greatest pass of the year (if not decade or maybe more), Renger Van der Zande, was available.

Wayne Taylor Racing, whose ludicrously fast, often hilarious Taylor-brother-centric lineup dominated the Prototype class in WTSC this year, lost one of their favorite sons from the lineup when Ricky Taylor was chosen to drive for the new Penske Acura prototype team in the series next year.

Fortunately for Wayne Taylor Racing, who wanted to announce Ricky's departure after the season because the team was fighting for the 2017 title, Renger Van der Zande only had a one-year contract with his 2017 team, Visit Florida Racing, Sportscar365 notes.

G/O Media may get a commission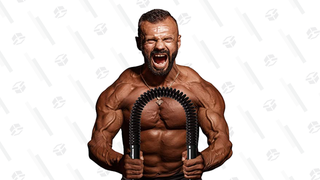 10% off
Zenooze Boa Power Twister
Van der Zande isn't just known for That Pass that gave Visit Florida Racing their first win of 2017—he was also the 2016 Prototype Challenge class champion.

It's all a bit of a dream for Van der Zande, as he told Sportscar365:

I have to say, for me, being with Visit Florida Racing was a good step up from LMPC, and now joining a Prototype championship-winning team is very special. [...]


In the last four years, my career went up from a guy trying to make a name in the sport to someone asked to race in the cars of championship-caliber teams. I feel very privileged to be in that position.

Now, being contacted by Wayne and getting asked to drive for this championship-winning team, that's the crown for driving all sorts of cars all over the world for so many years.
Dang, dude. That's what happens when you're fast, though.

2014 Indianapolis 500 winner Ryan Hunter-Reay is also heavily rumored to be joining the team for the four longer North American Endurance Cup races on the schedule (Daytona, Sebring, Watkins Glen and Petit Le Mans), per Sportscar365. However, the team hasn't announced their lineup for those yet.
In case you missed it, here is Van der Zande's much tidier recreation of Alex Zanardi's infamous "The Pass" at Laguna Seca:
I still get goosebumps watching that.