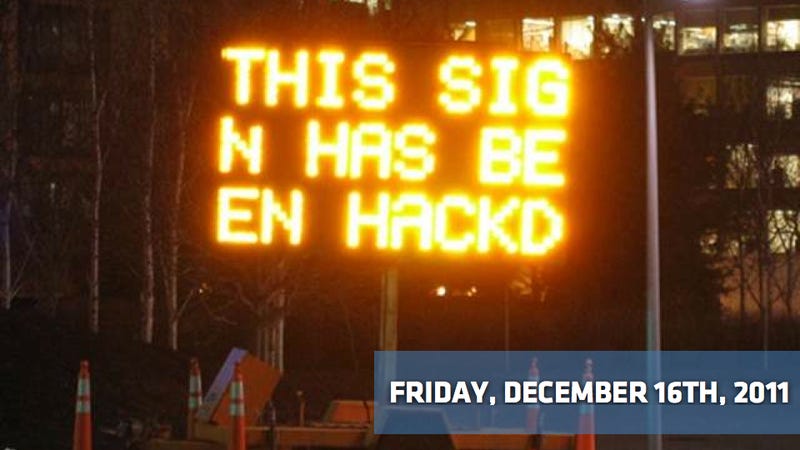 The Morning Shift
All your daily car news in one convenient place. Isn't your time more important?
This is the Morning Shift, our one-stop daily roundup of all the auto news that's actually important — all in one place at 9:00 AM. Or, you could spend all day waiting for other sites to parcel it out to you one story at a time. Isn't your time more important?
---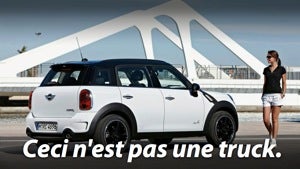 1st Gear: NACTOY Is Still A Joke
The finalists for the joke that is the North American Car and Truck Of the Year (NAMBLA NACTOY) award have been unveiled. For "Car of the Year" the three survivors are the Ford Focus, Hyundai Elantra, and the Volkswagen Passat. For the falsely-named "Truck of the Year" award, the finalists are BMW X3, Honda CR-V and Range Rover Evoque. Commence laughing and pointing now.
---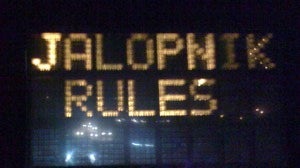 2nd Gear: Electronic Road Sign Hacking Hits Michigan
According to Tom Greenwood in this morning's Detroit News, zombie electronic road sign attacks have finally hit Michigan, and we're pleased to again see ourselves name-checked for helping start the trend. According to Michigan Department of Transportation spokesman Rob Morosi, signs have popped up sporting messages varying from "things not suitable for publication in a daily newspaper" to warnings about zombies. We're assuming the "things not suitable for publication in a daily newspaper" were things like this. But, according to the Michigan State Police, hacking electronic road signs is considered a misdemeanor punishable by up to 90 days in the slammer and a fine of $100. So whatever you do, don't hack any more road signs to read things like "Zombies Drool, Jalopnik Rules!"
---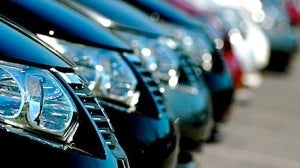 3rd Gear: European Car Sales Suck
PSA Peugeot Citroen, Fiat and General Motors led the biggest decline in European car sales in five months as more evidence that the region's economic woes are pushing deeper toward a bagel recession. According to Bloomberg, registrations in November dropped 3% to 1.07 million vehicles from 1.10 million a year earlier. That's the biggest decline since June, the Brussels-based European Automobile Manufacturers Association, or ACEA, said today in a statement. Eleven-month sales have declined 1.1% to 12.6 million registrations.
---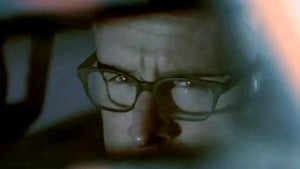 4th Gear: Lincoln's New NYC-Based Ad Team Still Based In Detroit
For years, Lincoln and Ford marketing have been handled by Team Detroit, an agency of WPP — a company started in 1971 as, no joke, a wire and shopping basket manufacturer — and comprised of teammates from a slew of agencies under the WPP umbrella including JWT, the original agency o' record. But now, as Ford seeks to make a last-gasp attempt to revive the Lincoln brand, WPP's giving Lincoln a boutique ad agency of its own — that, if you believe today's New York Times story, will be "based" in New York. Bull. I don't really know how an agency can be "based" in New York when, of its staff of 100, only 45 are working in New York — and the rest are in Dearborn, MI. Also, I don't think this fixes the root of Lincoln's problem — not having segment-leading (or, hell, segment-competitive) products. The term "lipstick on a pig" is what initially comes to mind, but I guess we'll have to wait until the Detroit Auto Show and a supposed unveiling to see for sure.
---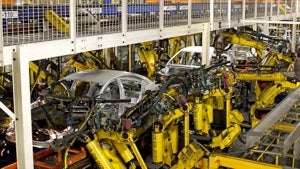 5th Gear: Cruze Still Not Cruising Down Assembly Line
Proud announcements that General Motors would restart Chevy Cruze production lines in Lordstown, Ohio, yesterday were a bit premature. The Detroit Free Press was first to announce yesterday that the factory was not ready to restart production after all. Work was halted Monday night at the complex in Lordstown, near Youngstown, because of what is being described as a supplier issue. All we know is that folks aren't at work today yet — nor are they expected to be.
---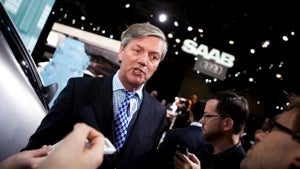 6th Gear: The Saab Story Continues
Previously on "The Saab Story," Guy Lofalk quit his gig as court-appointed administrator of the Swedish creditor protection proceedings. Apparently, it was a joint decision between Lofalk and Saab. Now, we're told by Bloomberg that Saab Automobile isn't pleased with the new appointee — asking for someone other than Lars-Henrik Andersson to become its new administrator, the Vaenersborg District Court in Sweden said today in a statement on its website. Saab had initially suggested Andersson to replace Lofalk. So now we're just still really confused. Why won't this brand just die? Maybe these were the drooling zombies all those electronic road signs were talking about.
---
Reverse:
⏎ Ferrari to Unveil its 2012 Formula 1 Car on February 7. [CarScoop]
⏎ Mercedes-Benz USA promotes marketing chief Steve Cannon to CEO. [Automotive News]
⏎ Rattner: Auto Task Force should have mandated UAW wage cuts. [Detroit News]
⏎ Former car czar Rattner: We should have pushed for more cuts. [Automotive News]
⏎ UAW hearings over unequal worker sacrifice at Ford to continue in 2012. [Detroit Free Press]
⏎ BMW to Set Up Brazil Plant to Sustain Record Global Deliveries. [Bloomberg]
⏎ Ford, Team Detroit set up exclusive ad agency for Lincoln. [Automotive News]
⏎ Suspension Walkaround: 2012 Fisker Karma. [Edmunds Straight Line]
---
Today in Automotive History:
On December 16, 1979, the night before the Organization of Petroleum Exporting Countries' annual price-setting meeting in Caracas, two member states (Libya and Indonesia) announce plans to raise the price of their oil by $4 (Libya) and $2 (Indonesia) per barrel. (The resulting prices—$30 and $25.50 per barrel, respectively—were among the highest they had ever been.) These diplomatic maneuverings were intended to keep OPEC's "price hawks" from raising them even further; nevertheless, by the end of 1979 the cost of oil had more than doubled since the end of the previous year. [History]
Show us your tips!
Got tips for our editors? Want to anonymously dish some dirt on a competitor? Know something about a secret car? Email us at tips@jalopnik.com.
Lost in our new layout?
Click here for the Opposite Lock or Tips forums. Want a more "blog-like" look? Click the button up top next to "Top Stories."
Get more Jalopnik!
Want even more Jalopnik? Want to know which of your friends read us? "Like" us on Facebook and follow us on Twitter.