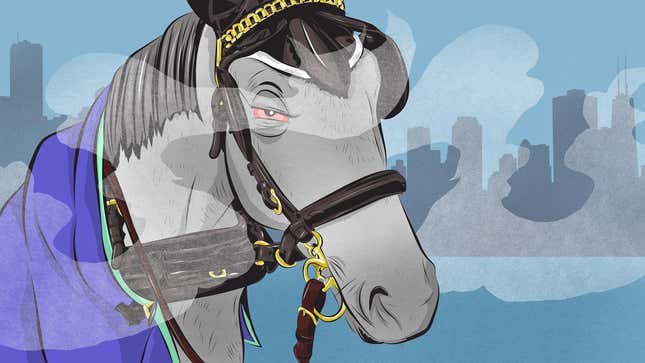 It started with a Craigslist ad. Not the furniture-for-sale section or a melancholy Missed Connection. I'm talking "Gigs" section Craigslist. It was 2009, and I had just graduated from college. I had no job or skills, and I'd moved back in with my parents. After getting a "we'll keep your resume on file, hon" from Dunkin' Donuts, I was finally coming around to the idea of selling my used underwear.

The ad in Gigs didn't say what the job was, except that you needed to have a driver's license and be prepared to get a chauffeur's license. But driving people sounded better than grassroots panty entrepreneurship. I emailed for details: It was a job driving a carriage for a "boutique" horse-and-carriage company.
I'd get a week of unpaid training, and then I'd make $4 an hour plus tips taking tourists and rich people on rides around Chicago's Magnificent Mile, the shopping stretch of Chicago's downtown core.
I accepted and asked what I should wear. Black pants, a black blazer, and a top hat, they said. Was the top hat supplied? It was not.
G/O Media may get a commission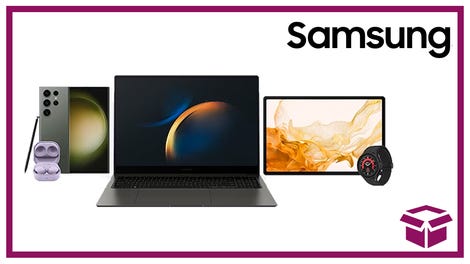 24 hour deals
Discover Samsung - Daily Deal
When I showed up at the stable a few days later, no one answered when I knocked. I walked in, and a few horses swished their tails in their compartments. My knowledge of horses was limited to a few horseback rides at the YMCA summer camp I'd attended in Indiana. I hated the "Equestrian" track campers, because like most child dorks, I was hyper-judgmental towards strains of Dork that differed from my own. Camp was the last time I'd touched a horse.
A suspiciously pubescent guy walked out from one of the stalls. I thought it would be rude to ask him if he was legally allowed to work, especially since he the first thing he told me is that he'd be training me. I don't remember his name, but he wore a Rancid shirt under his blazer every day, which I respected.
Rancid Shirt started showing me the ropes. Actual, leathery ropes— "reins," to use a little industry lingo. He secured the horse to its carriage with a series of knots that I immediately forgot how to tie. Then we set off for the Magnificent Mile.
As we set off, he asked me if I minded if he smoked a blunt. I did not.
---
It took about 45 minutes to drive the carriage from the stable to the tourist pick-up area, down side streets, through vacant parking lots. Rancid Shirt told me that these minutes were not paid—we only made money once we got to the carriage line.

He told me we were expected to provide our own equipment, and any additional "flair" for the horse. I learned that that the top earners had the most flaired-out horses. One woman, a true pro with a thick blonde braid and eyes that betrayed her as a former "Equestrian" track camper, gave me a catalog for future horse flair purchases—feathery horse crowns, decorative whips, bedazzled stirrups.
But who can buy decorative whips when you don't have any money? I couldn't even afford to purchase the uniform: My best friend lent me a musty-smelling sequined bolero jacket and an old velveteen top hat. I hoped that the sequins would distract customers from my flairless horse.
The first few days of training, I didn't take anyone on a carriage ride; neither did the veteran drivers. It was the middle of the recession, unseasonably cold, and a disastrously fallow time for the novelty transit community. As my grizzled colleagues grumbled and smoked and complained about idiot tourists, I fed the horses carrots and thought about my life choices.
The next week was better, because I got a few customers, and I found it thrilling to control the horse, gently pulling them and watching its giant body move to my commands. I also really like telling people historical facts about Chicago, and this was probably the best week of my life for telling people historical facts about Chicago. Oh, you didn't know that the James Charnley House is the architectural handiwork of a very young Frank Lloyd Wright? You fucking would if you went on my carriage ride!
Despite my blossoming status as a Woman of History, it was also my last week on the job. My commute was long, and I finally got a callback from Macy's to work in their accessories department. Also, looking at a horse vagina for a prolonged period of time proved bad for the psyche. Have you ever seen a horse vagina while it pees? The worst part is the way it undulates. It looks like several raw chickens wrestling in slime, or like a beige lamprey having a seizure trying to escape the horse.
The shitting was gross too, and they shat and pissed into a bag and we had to clean it at the end of the day, back at the stables. Macy's seemed like the right move, especially since I'd only made $40 in two weeks.
And it was: I got a regular paycheck, I worked indoors, I didn't see poop. Plus, we sold panties in the accessories department. I had unlimited access to brand-new clean underwear, in case things got rough again.