Last month, I bought a dilapidated 2001 Oldsmobile Alero for one (1) dollar. After getting this relic of a bygone General Motors era up and running, I put it to the test this past weekend with 1,400 miles of crowded, pre-Thanksgiving American interstate. Now I think I might be in love.

Clearly I'm not used to cars functioning this well, because I'm on the verge of joining an Oldsmobile forum, hitting up the 474-member strong Oldsmobile Alero owners Facebook group, and buying this T-shirt from eBay:
I'd also buy an Alero foam finger if I could find one, and if I weren't so afraid of getting tattoos, I'd probably have an Alero inked to my lower back by now.
Yes, despite being a discerning car enthusiast (or, to some, a car "snob"), it seems I have somehow fallen in love with a mundane, four-cylinder, four-speed slushbox-equipped four-door Oldsmobile. But before you ask me to turn in my "auto journo" membership card, let me explain.
G/O Media may get a commission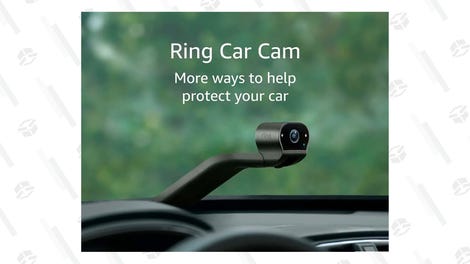 On Wednesday afternoon, my friend and I packed our things into the $1 Oldsmobile, and headed east to Washington D.C. I had just purchased the Oldsmobile six weeks prior, and aside from swapping the battery, some ignition parts, and the radiator (I probably spent about $150 in total)—and also conducting short pre-trip inspection of the fluids and suspension parts—I really hadn't "gone through" the N-body sedan. There was still a lot about the vehicle that was mysterious to me.
My friend Brandon wasn't too thrilled when I told him about our chariot. I promised him I'd get us a sexy press vehicle for the journey, but there was nothing left in the fleet that I wanted to review. And because I don't really own anything else that's worthy of a long road trip, I had no choice but to risk my friend missing out on time with his family during Thanksgiving by choosing the Olds.
Our Thanksgiving weekend hinged upon the reliability of a random car that I had purchased for $1, and only recently got back onto the road (I had probably put about 100 miles on the car in total), so I guess I can see why Brandon was displeased.
But all the worrying was for naught, because the Oldsmobile was amazing. The ride was excellent, the seats were cushy, the heater was so hot I sometimes wondered if the thermostat was stuck closed, and both the radio and cruise control worked perfectly.
The Alero crushed mile after mile, crossing from Michigan into Ohio, then into Pennsylvania, then cruising into Maryland before stopping at Brandon's house in Vienna, Virginia.
The fuel economy was amazing. No, I didn't actually have any gauges to tell me how many miles I had traveled (I haven't tracked down that gremlin yet), but using the GPS on our phones, and our knowledge of the Oldsmobile's 14.3-gallon fuel tank capacity, Brandon and I managed to get 700 miles to our destination without running out of gas a single time. And based on our GPS apps, we calculated between 28 and 30 MPG.
That's double what I would have scored in any other vehicle I own.
The next day, I drove down U.S. Route 29 from the D.C. area to Charlottesville, Virginia to visit my brother Tom (a computer engineering graduate student who studies machine learning—he's a nerd). Tom had a turkey nearly ready in the oven, and a bunch of side dishes on the stove.

As I didn't want to seem like a free-loader, I decided to contribute by fumbling around in the kitchen, and crafting a concoction that resembled broccoli casserole. It actually turned out surprisingly well (i.e. zero incidents of food poisoning), and that tryptophan-filled Thanksgiving meal with Tom, my high school friend Justin, and some of Tom's friends was a resounding success—one that couldn't have happened were it not for the unlikely resolve of that tough little Olds.
Really, the whole weekend was a great time. I met my old college buddy Jeb and my high school friend Justin for a tailgate and the Virginia Tech football game that UVa lost (as UVa is wont to do), and I joined my brother in exploring a beautiful university that I really hadn't gotten to see much of when I attended thanks to my heavy engineering course-load.
All of this Thanksgiving weekend goodness I owe to the $1 Olds.
OK, so the car wasn't perfect. Aside from the broken gauge cluster, the rear driver's side window didn't seem to shut all the way, making for a supremely annoying whistle at highway speeds. Also, I found myself letting off the throttle during the 1-2 shift, as the transmission tended to "buck" when going up into second gear. Are the transmission's days numbered? Perhaps.

There's also a subtle vibration when touching the brakes at highway speeds, so I suspect the rotors are a bit warped.
I also have a new crack in my windshield, and some scratches on the hood that I don't remember being there before. Whether this was a drunk college student trying to show off, or a tree branch that fell down in the night, I still haven't determined.
But all of the issues were relatively minor, and the Oldsmobile provided a comfortable, fuel-efficient ride all the way back to Michigan with no drama. For a $1 car, that's just a damn miracle.
This American titan of a sedan and I really connected this past weekend, which is why it will be so hard to say goodbye when I trade the machine for a Kia Rio. Still, I will never forget what I was thankful for during Thanksgiving of 2017: a little brown Oldsmobile Alero.