Here's what you've been waiting for — the 2010 Chevy Camaro SS, 2009 Dodge Challenger R/T and the 2010 Ford Mustang GT — reviewed by us, together at the same time and place. Time for the Muscle Car Wars!
G/O Media may get a commission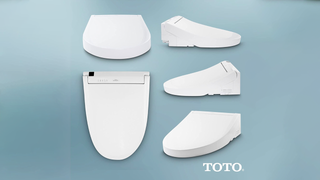 44% off
Toto Washlet Electronic Bidet Toilet Seat

Here's what we're going to do — since there's outlets out there better suited to walking through reams of meaningless testing data, we've left that to them. Instead, we're more interested in how these babies perform as, well, as muscle cars. That's something as much about feeling as about numbers. So we've assigned two Jalopnik staff people to each of the three marvelous modern muscle cars, rating them on a five-star scale for the categories of Exterior Design, Interior Design, Acceleration, Braking, Ride, Handling, Gearbox, Audio, Toys, Value and an Overall score. We'll add up each writers scores for each car and the pony with the most stars at the end wins! Let's begin.
Exterior Design

2010 Chevy Camaro SS
Krewson: *****
Yes, it's a retro-inspired reimagining, and you might want to dock it points for that, and yes, its sheer size is astounding- at one point Wert was driving the Camaro (imagine that) just a couple car-lengths in front of me on the expressway when a Civic pulled between us, and the Camaro's shapely flared fenders were clearly visible on either side of the Honda. But come on, folks, get into the spirit of the thing and admit that from the scowling grille to those muscular flares, it looks exactly the way a 21st-century Camaro should, all hunkered-down heroism and larger-than-life muscularity. A stunning car.
Siler: *****
Ditches the shamelessly retro nature of the other two for something that's more retro futuristic. Pushes all the right muscle car buttons, promising a powerful, wild car underneath.
Dodge Challenger R/T
Siler: ****
The only retro car that actually looks better than the original, the Dodge Challenger resolves the 1970 car's awkward proportions into something that's completely distinctive and seriously attractive. A master class in car as toy for man-children, the Challenger would be perfect if it wasn't so big that it makes all its drivers look like the 12-year olds that they are inside. This car has the "Classic" package, which brings chrome Crager replicas and swoopy black stripes.
Wert: ***
As I've said before, the Challenger's the perfectly-styled retro muscle car...for 2008. Back then it was the only newly-styled pony on the road. Now, with the Camaro and Mustang available, it just kinda looks quaint — not exciting. Still I love the children's coloring book R/T stripe package.
Ford Mustang GT
Wert: ****
I can't tell you how many times I've heard "It's not a revolutionary design change, it's evolutionary." Still, we should all be this evolved. The new design freshens up the packaging of what is, essentially, the same Mustang powertrain lineup as before. Also, love the trick turn signals lighting up in sequence.
Krewson: ****
The Mustang looked, well, pretty okay when it debuted a few years ago, and while it was never exactly revolutionary, they've done a pretty good job of sharpening this crease here and redrawing that curve there to keep the design pleasant enough. Our GT had the extra fog lights, the blacked-out pony on the grille, the nifty sequential turn signals, and the tasteful spoiler delete option, so even in frankly putrid Harvest Gold Metallic (remember the great kitchen stoves of the '70s?) the GT is a nice, handsome car. Not striking or daring or even particularly head-turning, mind you, but certainly a car that'll give the owner satisfied grins for a good long time.

Interior Design
Chevy Camaro SS
Krewson: ****
The strong styling continues inside to pretty good effect, with those distinctive round gauges in rectilinear pods looking out at you through a chunky steering wheel and ancillary gauges peeking up at you past the shifter, materials that are perfectly fine, and two rather firm deep-dish bucket seats (let's just ignore the back seats the way God intended). You are way, way down in those seats, though; again there's no escaping the size of this car, which means visibility isn't great in any direction except straight ahead. And even in the age of chin-level beltlines the Camaro is in a league of its own-I tried to hang my elbow out the window just like any decent American would and damn near dislocated my shoulder. Just the same, it's aggressive, well-executed, and muscle-car appropriate.
Siler: ***
A reasonable amount of space, even in the rear seats, but vision is terrible, materials are cheap and the supplementary instruments down by the gear stick feel contrived.
Dodge Challenger R/T
Siler: **
Well, it covers all the unsightly wires and whatnot, so I suppose that's something. Sit in the Challenger and you could be in a Neon, PT Cruiser or any other crappy Chrysler/Dodge. It does not make you feel special.
Wert: **
Dear federal government, please never let the current LX platform spawn another model with the exact same blank, flat, plastic interior design we've seen since the 300C first rolled off the Brampton assembly line in 2004. The seats however, and rear room, are divine. Your taxpaying friend, Ray.
Ford Mustang GT
Wert: *****
I can't believe I'm saying a Ford Mustang looks good on the inside, but it really does — with lots of room in the front cockpit and good use of more expensive-feeling plastics than the other two muscle cars. Also, bonus point for having a windowsill low enough to rest your elbow on without getting an ulnar nerve displacement.
Krewson: ****
Less pretty, more practical: More retro here, this time Ford flavored, featuring one of the great automotive typefaces of all time on the tach and speedo (Dad was a Ford guy, and seeing that dash on Father's Day weekend gave me a real pang, I don't mind telling you), controls with pleasant heft and feel, and simple, well-bolstered seats. It's a touch slabby, in the way your passenger gets a nice aluminum panel staring them in the face and the door panels kind of resemble collections of vacuum cleaner attachments, but it's all built out of pretty good stuff and you're soon right at home. Except for the rear quarters, outward visibility is quite excellent as well, though Ford will let you cover up those rear-quarter windows with optional louvers if you just want to throw your hands up and say to hell with everything.

Acceleration
Chevy Camaro SS
Krewson: ****
I know, I know, the numbers say one thing, but my inner ear and butt say quite another. You may argue that my butt's doing all the talking as usual, but hear me out: there may be a big ol' version of one of the great engines of all time in this thing, but it's deep down under lots and lots of automotive lard, and the car never felt all that comfortable to launch or happy to hook up. Yes, the Camaro is the quickest car here, and my forebrain knows that. But my, uh, hindbrain keeps telling me all that quick should be a lot more fun, and it's right.
Siler: *****
With a 426 HP, 420 Lb-Ft 6.2-liter V8, straight line acceleration is the Camaro's reason for being. The official 0-60 time of 4.6 seconds means you'd have to bring a Cadillac CTS-V or Corvette to be assured of beating the Camaro.
Dodge Challenger R/T
Siler: ***
376 HP and 410 Lb-Ft of torque do an admirable job of propelling the 4,140 Lb Challenger, but the engine needs more revs than we'd like in a muscle car and that weight does make it noticeably slower than the other two. Expect 0-60 MPH in 5.5 seconds.
Wert: ***
There's always power to be had with a HEMI, even if the R/T only comes equipped with the smaller of the two shoehorned between the rails of this platform. Given how heavy this car is, it needs the 6.1-liter.
Ford Mustang GT
Wert: ***
Meh. Same Mustang powertrain, different Mustang model year. Wake me up when I can get an EcoBoosted-six under the hood with more HP. Or something Boss-ier. Still, the Mustang GT holds its own against the Challenger R/T. Then, of course, they both realize they were just left in a cloud of smoke by the Camaro SS.
Krewson: ****
Same rating as the Camaro, because in the real world, the Mustang is easier to hook up, feels more eager, and unlike the other cars here it wasn't so bloated that it struggled to get out of its own way. Nice loud toppling-woodpile clunks from that live axle, though, and when all's been said and you need to get things done, the Camaro will run a tick or two faster. It just won't be as much fun.

Braking
Chevy Camaro SS
Krewson: ****
Now here's a very pleasant surprise; these brakes are pretty good. Sure, they're giant discs working on huge tires, but it's still a wonder the way they progressively and repeatedly slowed a sizable coupe without being grabby in the least. Impressive.
Siler: ****
Like the engine, biggest is best. 14" discs are reassuringly powerful and easy to modulate.
Dodge Challenger R/T
Wes: ***
You can feel the Challenger's weight here too, even if you can't feel much in general. The 13.6" front discs will bring you to a stop, but we wouldn't want to rely on them to repeatedly haul us up on track.
Ray: **
Could have used a set of Brembos like the SRT8. Just sayin'...
Ford Mustang GT
Wert: ***
Not Brembo-class, but capable with little of the brake fade I felt on the Challenger.
Krewson: ****
Communicative, unflappable, and very good indeed, if not world-beating. Again, size and weight played a subjective part as I was more comfortable braking harder and more confidently in the Mustang than the others.

Ride
Chevy Camaro SS
Krewson: ****
It's firmly sprung and damped, but even on some of the astoundingly excruciating roads we put up with in NYC, the Camaro did an okay job of keeping the fillings in the teeth. It soaks up freeway bumps particularly well, although strangely, expansion joints seem to only hit through the rear wheels. My theory: the supermassive Chevy's front wheels smoothly pound bumps through the Earth's crust on contact, but then the rear wheels jounce over the resulting impact craters.
Siler: ***
Where you want and expect a visceral muscle car, The Camaro rides like a luxury sedan thanks to struts and coil springs up front and multilink rear suspension.
Dodge Challenger R/T
Siler: ***
Pretty decent for a performance car, the Challenger rides like all the LX platform sedans. Large ruts and long sequences of bumps still upset the chassis, meaning more composure would be welcome, that's surprising for a car with independent rear suspension.
Wert: *
Wait, the Mustang's the one with the truck axle, right? In all seriousness, the cut in size from the standard LX platform does nothing to help smooth out the jarring feeling of the West Side highway underneath you.
Ford Mustang GT
Wert: ***
While you can tell it's a live axle, you can also tell Ford's spent the past, umm, 45 years, fine-tuning the suspension for this tree-trunk-like truck axle to soften up what would otherwise be bone-shattering rough roads. It actually performed better than the Challenger's IRS. Who knew?
Krewson: ****
It's good and supple and comfortable, right up the the point it isn't. That live axle does a surprisingly good job of soaking up most trouble, but again, we're in New York City, and on the bad stuff the live axle turns undead on you. As a result, this is is the muscle car I sheepishly drove around the potholes.

Handling
Chevy Camaro SS
Krewson: ***
Frankly, I didn't like driving the Camaro all that much. I didn't hate it-It grips pretty well, and its considerable mass is tautly strung together and evidently well-centralized, because it handles predictably and turns without yawing like a lifeboat and never seemed to want to plow the front under or spin the rear out. But it wasn't the happiest car I've ever driven, and when you took it through the tight stuff or changed direction quickly, it seemed to double in weight. Conversely, the steering was far too light and isolated from the wheels, making the car feel even less integrated.
Siler: ***
Imminently capable yet utterly boring. We want muscle cars to be wild, dangerous beasts that require big balls and bigger skills to exploit, yet your mom could take it down a back road as fast as you could. Push it and the staggered tires will see the narrower fronts push unless you're silly with the throttle, then you get uncontrollable oversteer.
Dodge Challenger R/T
Siler: **
Ties itself in knots in corners, initially it's all understeer before snapping into oversteer unpredictably. You can't fully defeat the stability control (only the traction), which is a good thing because the good ship Challenger feels just like the LX sedan it is underneath.
Wert: **
Frankly, cornering the Challenger's like trying to wrassle a warthog. I mean, if I knew what wrasslin' a warthog was like. But my assumption is it'd operate just like one of them thar rear-wheel-driven animals, moving that rump from side to side with nothing close to resembling grace and ease.
Ford Mustang GT
Wert: ***
Yes, the Mustang GT handles well, but not world-beater well. I'm sorry but the live-axle becomes apparent if you accelerate over even a medium-sized pothole or highway spacer while turning. It's good, but it could be better.
Krewson: *****
Better men than I am, and also Wes, have striven to tell us the Mustang GT is a brilliant handler despite being a bone-stick-stone primitive struts-and-live-axle car. Well, those men and Wes are absolutely right. It moves so much better than every other car in this group that it's hardly even a fair comparison. The steering is well-coupled and well-weighted and perfectly matches the Mustang's aptitude for cornering without drama, complaint, or anything to spoil your fun-your loads and loads of fun. Chalk it up to American ingenuity, I guess, because it flat-out works.

Gearbox
Chevy Camaro SS
Krewson: ****
A muscle car, or as I'm starting to think of this Camaro, "muscle-lux" car, with a six-speed transmission is surely one of the signs we're living in The Future, and this six-speed is a nice one. The clutch engages through a surprisingly narrow band, though, strange when you consider the very similar G8 GXP had such great feel and usability.
Siler: ****
It's a Tremec TR6060, as used in every other V8 GM performance car ever made. That's a good thing because it has short, positive throws and precise selection.
Dodge Challenger R/T
Siler: **
Whoever thought a pistol grip was a good idea for this long-throw, sloppy version of the TR6060 is a moron. It's pretty hard to find the right gear, made harder because you have to grab the shifter like a cartoon superhero.
Wert: ****
I loved the Tremec TR6060 six-speed manual transmission in the Dodge Viper and I love it here in the Challenger. The pistol grip shifter's a nice touch and makes me think, for just a moment that I'm in a '60s muscle car. I like that feeling.
Ford Mustang GT
Wert: ****
I simply adore the Mustang's gearbox. It's easy to shift, even with the rock-hard clutch. I'd have given them an extra star if they'd offered a six rather than the five. Ah well, still love it.
Krewson: ****
Just a five-speed here, though, somewhat disappointing as the GT500 can be had with six. Still, it's a good five-speed, the best-shifting gearbox of the group by a couple hairs, with much better, if stiffer clutch feel.

Audio
Chevy Camaro SS
Krewson: ****
The stereo is just fine, I guess (although the exposed rear-speaker magnets and wires in the trunk are a little too retro). I really have to say that the engine note rarely got as growly or raspy as I'd like, and should be more prominent; if it can't be as glorious as the Mustang's, it should at least be as good as the G8 GXP's muted roar.
Siler: ***
The LS3 sounds awesome under full throttle, you can't hear it otherwise. I never turned the stereo on.
Dodge Challenger R/T
Siler: **
The V8 only wakes up at 4,000 RPM and higher, meaning you'll need to use the crappy stereo if you're driving in traffic. It looks like Chrysler bought it at Pep Boys.
Wert: *
Blech. The entire Chrysler audio faceplate lineup needs a redesign. I feel like I'm looking at the same stereos I've seen since 2004. Oh wait, I am.
Ford Mustang GT
Wert: ***
Best of the group — although that's not saying much. But seriously, who's blasting music when you could be listening to the music coming from the pipes out back?
Krewson: ****
The stereo is just fine, I guess. But the important thing is, well, perhaps you've heard that Ford does this great trick where they run some sort of resonator pipe past or through the passenger compartment-I'm not sure which and I don't care, but it is absolutely majestic. It's a sound you hear with your pelvis.

Toys
Chevy Camaro SS
Krewson: ***
I continue to be a fan of GM's OnStar, the navigation system that is made of real live people. Also, if I understand Ray correctly, this car unfolds into a five-story tall robot, which is not to be sneezed at.
Siler: **
No Sat/Nav? OnStar will give you directions and call an ambulance when you hit a telephone pole, but I'd hardly call either fun. The extra gauge pack is somewhat pointless as all the needles do is sit still right in the middle. I'm convinced they're glued on.
Dodge Challenger R/T
Siler: *
If you love caressing sweaty black plastic you'll love playing inside the Challenger, otherwise that cheapo stereo/nav screen is all you get. Still, the Challenger is essentially a full scale Hot Wheels toy so people will always think you're playing with something.
Wert: *
What toys? The craptastic nav system that always sends me through the Brooklyn Battery tunnel rather than the Midtown or Brooklyn Bridge? That one?
Ford Mustang GT
Wert: *
This car is a toy. It's toy-sized and it looks like a toy. Unfortunately, it has no toys in your toy so you can play while you play.
Krewson: ****
Our GT was a little basic, without either of the available nav units, but it did have Ford's excellent SYNC system, which is worth noting for its transparency and because, as far as I know, it's the only voice-recognition system in the world that works really well. It also has that Mustang interior accent-lighting color-change gadget, which is kind of neat, I guess, but spare me.

Value
Chevy Camaro SS
Krewson: ***
Of course the person who absolutely has to have it will get it, and they'll be able to overlook its considerable flaws because none of them are really deal-breakers. But the average person looking for a fun second car just has too many other alternatives, whether they're looking for an all-American-type experience or not; this Camaro is a strange 'tweener, neither a luxury coupe nor a true go-to-hell muscle car, and that's an awkward no-man's land. That said, it was the car that dropped the most jaws, got the most thumbs-up, and made kids yell "Bumblebee! Bumblebee!" Can you really put a price on that?
Siler: ****
A 426 HP Corvette engine with four seats and good looks for just $31,040? That's amazingly good value even if it is boring to drive.
Dodge Challenger R/T
Siler: ***
$30,995 isn't bad for a fast-ish muscle car that looks this good, but the other two offer so much more for a similar price that it'd be hard to pick the Challenger.
Wert: **
It's $1000 cheaper than a base SS but still a world apart.
Ford Mustang GT
Wert: **
At $32,835 it's too rich for my blood. Especially when you can get a Camaro SS with so much more HP, brakes and panache for just a grand more.
Krewson: ****
It wouldn't be perfect, but unlike the other cars here, the Mustang could in fact be your only car. It's the easiest car to drive in everyday traffic as well as the easiest to drive fast, the most comfortable, and probably the cheapest to buy and operate. It's also a 'tweener, but it occupies a more comfortable area between muscle car, sports car, and daily-driver.


Overall
Third: Dodge Challenger R/T
Average score: 2.5
Equipped with all the characteristics of a classic muscle car — big engine, not much else — the Challenger R/T just doesn't stack up in the modern world. Krewson and I spent and entire weekend fighting about who's turn it was to drive it. Not because we wanted to, but because we were so embarrassed by the bright orange paint, Hot Wheels stripes and the huge size that we really didn't.
Second: Ford Mustang GT
Average score: 3.6
The lightest, least powerful and most involving to drive car here, it's nevertheless 111 HP down on the Camaro SS. If muscle cars are about muscle, that matters. Even though it's the cheapest base model, you have to spec it up to the base Camaro SS price if you want equivalent spec. Had we had the optional track pack, with its GT500-derived suspension, we suspect this result could have been even pricier, but the outcome may have been very different.
First: Chevy Camaro SS
Average score: 3.7
The Camaro has a great engine, looks really cool and does pretty well everywhere else. Since none of these cars are out-and-out handlers, that puts it over the top. Grow a mullet, switch to cheap domestic beer and embrace your inner hoon.