India may be one of the world's most rapidly-developing nations, but it the pace of its growth is being matched by the size of its embarrassing problems. Near the airport in Mumbai, is a slum that houses 90,000 people, and security personnel say it poses "a grave threat" to the city's airport.
Bloomberg is reporting that the Indian government has asked Mumbai to evict all tenants of the dwelling, because its proximity to the airport allows close-in access to individuals who might wish to cause harm to air traffic. An unidentified aviation official told Bloomberg that concerns had been raised after Taliban attacked the airport in Karachi, Pakistan in June, killing 36 people. They also opened fire on a plane later that month, killing one. Last week, al-Qaeda leader Ayman al-Zawahiri said he is starting a branch of the group in India.
The slum encompasses about 309 acres of land around the airport. Also near the airport is a massive garbage dump. The mound of trash at the Deonar dump is is approaching 20 stories high, and officials say it may soon pose a threat to air traffic. It's not specifically the height of the trash mound that poses the threat to aircraft though — it's the large number of birds that are attracted to the trash. The birds obviously fly much higher than the mountain of waste, and the city is concerned that birds may fly into the paths of aircraft.
G/O Media may get a commission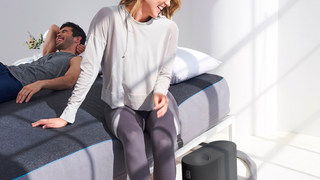 Eight Sleep Pod Cover
The Global Competitiveness Report, which was released last week shows that India's air transport infrastructure ranks 61st in the world, just behind Ethiopia. The slums around Mumbai house an estimated 6.5 million people, or just over half of the city's population.