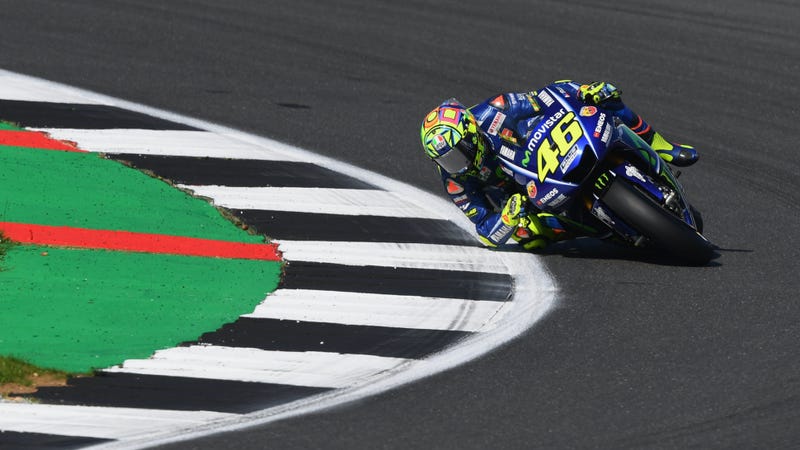 Yamaha MotoGP legend Valentino Rossi has been cleared to race again a mere 21 days after breaking his right leg in a motocross accident, the series announced today. If all goes well in practice, he'll be back racing at Aragon this weekend.

This means that Rossi only missed the Misano race earlier this month. Rossi broke his leg while riding motocross to train in late August. It was the same leg that broke in a high-speed crash at Misano in 2010. Rossi was rushed into surgery immediately following the crash, at which point, doctors estimated it would take 30 to 40 days for Rossi to be back in condition to race.
Guys like Rossi are insanely fit, though, so it's almost no surprise that he was able to beat that 30-day estimate for recovery. IndyCar's Sébastien Bourdais accomplished a similar feat after being badly injured in an Indianapolis 500 crash this year, returning to race in less than three months after doctors estimated that he would be out for the rest of the season.

Yamaha confirmed that Rossi would be riding this weekend in a statement provided to Autosport:

This afternoon [Thursday] Valentino Rossi successfully completed a mandatory medical examination carried out by MotorLand Aragón's Chief Medical Officer, Clemente Millan.

He declared that the nine-time world champion is fit to ride, 21 days after sustaining a leg injury. The Italian will take part in the FP1 session tomorrow.
However, the team will determine after his first practice session on an MotoGP bike if Rossi is really ready to race again or not. So far, Rossi's test rides have been on slower road bikes.

Rossi currently sits 42 points behind championship leaders Marc Márquez and Andrea Dovizioso after missing the San Marino race.