Romano Fenati has become something of a taboo name in the Moto2 paddock after he grabbed competitor Stefano Manzi's brake lever in the thick of a race. His team dropped him, he was reported for attempted murder, and now, he's been banned from racing until 2019.
According to a report released by the FIM, Fenati was summoned to their headquarters in Mies on September 18th. They basically demanded that he explain his "egregious and shocking" actions to the governing body, who, apparently, were not impressed:
During the meeting, the FIM representatives emphasised the Federation's deep concern for the safety of all riders and other participants in motorcycling competitions. They also highlighted the importance it attaches to fair play in motorcycling sport. While acknowledging that riders, and in particular those who reach the highest level of the sport, are subject to many pressures both on and off the track, they reminded Mr Fenati of the profound influence high-level athletes can have on fans and young people and urged him to be mindful of his responsibility to set a positive example in future. 
Ouch. Those aren't promising words for a future in racing.
Ultimately, the FIM revoked his racing license, which effectively bans Fenati until 2019. He'll have a chance to re-apply for his license next year—if the FIM sees fit, that is. His future is all subject to what the FIM decides for him.
G/O Media may get a commission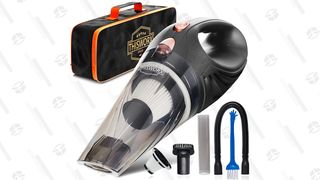 Save 50%
ThisWorx Car Vacuum Cleaner
This is a pretty strong reaction, and thankfully so. The reaction on social media was understandably harsh, given that, y'know, it's pretty shitty to potentially put someone's life in danger. Even figures in MotoGP, like Cal Crutchlow, have been pretty outspoken about their feelings—namely that Fenati should be banned for such purposefully reckless behavior.
There's not much of a season left—only six more races—but it's a good way to make sure Fenati understand the consequences of his actions. His previous two-race ban was just a slap on the wrist. This is a little more substantial.
So, sure, Fenati can re-apply for his license. But it's pretty hard to see anyone willingly signing him after this.