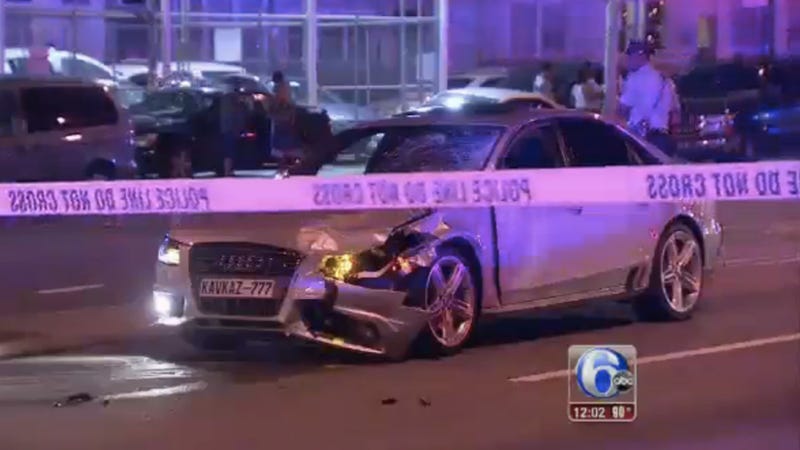 Weren't we just talking about why street racing is horrible? Police in Philadelphia are investigating whether a car that struck and killed a woman and her three children was engaged in a street race, according to news reports.
TV station WPVI reports that Samara Selena Banks and her four young sons were crossing Roosevelt Boulevard at North Second Street in the Olney neighborhood just before 10:30 p.m when they were hit by 2012 Audi S4. The 22-year-old Audi driver remained at the scene and told police he lost control of his car. Charges are pending.
Banks, 28, and her 18-month-old, 9-month-old and 4-year-old sons were all killed in the crash. Her five-year-old son suffered only bumps and bruises, the TV station reported.
Police are investigating whether racing was involved in the crash. Witnesses told police that they saw the Audi racing a 1994 Honda before the wreck, apparently at speeds approaching 100 mph.
Adding to the issue is that there is no painted crosswalk on that street, just a grass area where people cross, WPVI says. A petition has been started calling for a traffic light.
Whether it was reckless driving, street racing, or just an unfortunate accident, it's obvious that this whole case is horribly sad. If racing is found to be involved, it's yet another example of why it has no business happening on public roads.
UPDATE: NBC Philadelphia reports that police say the crash was indeed caused by drag racing. Two men, Khusen Akhmedov, 23, and Ahmen Holloman, 30, were arrested last night. Both face four counts of homicide by vehicle, third-degree murder, involuntary manslaughter and other charges.
Hat tip to Mopar Blog and McMike