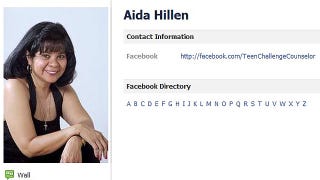 In a heartwarming tale of practicing what you preach, a 58-year-old holy-rollin' woman ran into a high school student with her '96 Accord, then threw a Christian pamphlet at the kid before driving off.
The Houston Press reports that on October 14th, Hillen hit high school student Jonah Garcia while he was crossing the street. Then Hillen stopped and asked him if he was allright. He said "No," and she decided to throw him a Christian pamphlet and drive away rather than do the right thing, something she might have learned from said pamphlet.
Police tracked Hillen after a nearby student managed to write down her license plate number while she was driving away. That intrepid witness had tried to flag down Hillen as she fled the scene, but she only waved and kept driving.
Hillen's Facebook profile has been taken down, but the Houston Press has this quotation from a post she made on the "I Love Jesus My Saviour" group page:
"Worry is the Opposite of Faith! You must understand, we all endure challenges. We all face mountains in our lives. Knowing this, it is very important that we live our lives knowing God can and He will. Thought to Ponder: When was the last time your worrying helped you?"
We all endure challenges, Aida. Sometimes these challenges involve insane hypocrites dishing out sermons and hit-and-runs — or an emergency room bill for $730.50 for a bruised ribcage.
Or even, as Aida Hillen now does, facing a felony charge for accident causing injury.