The Jalopnik Film Festival was a massive success but, thanks to a sell-out and the fact that it happened in Brooklyn, not all of you were able to attend. No worries, we've put most of the films in this post so that you can watch them from the comfort of your own office.
While not every film is available online, we've retained the order of the films so you can get a sense of how they were displayed. We're just showing the trailers from Where They Raced and APEX, but you can download Where They Raced if you wish to. You'll just have to wait for APEX like the rest of us!
Ignition
The award-winning script from Jalopnik reader Casey Phillips, presented by Volvo Cars and produced by 8112 Studios.
---
Nagoya Streets
G/O Media may get a commission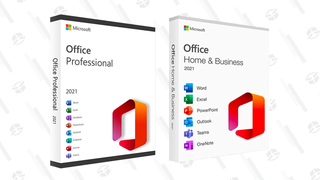 89% off
Microsoft Office Professional 2021 Lifetime License
A glimpse into one group's appreciation of vintage American steel in one of Japan's largest cities.
---
Petrolicious: Driving This GTO Is A Certain Kind Of Ecstasy
Phil Hill's son Derek Hill (who was in attendance!) recounts the history of one of the most important and lusted after sports cars ever.
---
/DRIVE MOMENT: One Take Porsche Pit Stop
The 2014 Sebring-winning Porsche 911 GT3 RSR's final pit stop, all in one-take.
---
Ayrton's Wish
Ayrton Senna's legacy lives on in the lives of young people in Brazil he's forever changed.
---
Regular Car Reviews: BMW 330ci
If Hunter S. Thompson reviewed and old BMW it wouldn't be as entertaining as this.
---
Where They Raced
This documentary captures a Los Angeles before the gridlock, when the streets were race tracks. The film is available for purchase and download for $9.99 here.
---
WRIGHTSPEED: Turbine Truck vs. Turbine Chopper
Two very different vehicles and one common powerplant in the wide-open expanses of the Bonneville salt flats.
---
FY Racing: Oregon Trail
Modern rallying is a sport for the mad as captured in this short film of one team's adventure.
---
APEX
The creators of /DRIVE document the rise of the hypercar, from the LaFerrari to the Koenigsegg ONE. Only the trailer is online because the film is not complete.