Good Morning! Welcome to The Morning Shift, your roundup of the auto news you crave, all in one place every weekday morning. Here are the important stories you need to know.
1st Gear: The New Minivan Boom?
No vehicle is as equally great at its job and completely unloved as the minivan. The American masses have moved away from them in favor of "rugged" and "outdoorsy" crossover vehicles, even when the minivan is a vastly more competent family-hauler.
But! The minivan could be set to experience a big boom in China, still the world's largest and most important car market, as the country backs away from its policy of one kid per family. Here's Reuters to explain:
Industry experts say the appetite for bigger cars is strong enough in China, where extended families often live under one roof, to potentially turn it into the largest MPV market after the United States, where automakers have sold big cars to families for years.
[...] "After the roll out of the two-child policy, I believe the market share of 7-seat SUVs and MPVs will further strengthen," Wu Song, GAC Motor's general manager, told Reuters.

MPV sales for the first 10 months of the year grew 7.8 percent, according to the China Association of Automobile Manufacturers, outperforming the 1.5 percent growth in the overall car market.
G/O Media may get a commission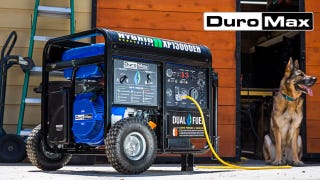 Black Friday Sale
DuroMax Generator Sale
Also, this:
Ma Li, a plastic surgeon in Beijing, bought an MPV because he said its sliding doors were safer for his 10-year-old son.

"I didn't think at all how my friends would view this car," Ma added. "The important consideration was the practical use."
Minivans are the best! Parents, just buy the damn minivan!
2nd Gear: VW Takes A Hit
Dieselgate, as well as issues with CO2 output and fuel consumption, are starting to take their toll on Volkswagen's new car orders. Here's Reuters:
"There is caution in buying," the German company's works council chief Bernd Osterloh told reporters. "The CO2 issue has triggered a greater crisis of confidence (in VW products) than the nitrogen (emissions) issue."

VW said on Nov. 3 it had manipulated the level of CO2 emissions in about 800,000 cars sold mainly in Europe, and is expecting costs of at least 2 billion euros ($2.1 billion), including compensation payments to customers.
Meanwhile, German media reports VW knew about those issues as early as a year ago, contrary to their assertions that they discovered the problems amid Dieselgate. Great work, VW!
3rd Gear: Can The 3 Series Keep Up?
Automotive News has an intriguing story on the 40th birthday of the benchmark of the sport luxury game, the BMW 3 Series, and how its competition is tougher than ever. Industry leaders like Bob Lutz and Cadillac's Johan de Nysschen admit it's still the top target, but others say the 3's not as sharp as it used to be. Here's Jake Fisher from Consumer Reports:
For instance, the freshened 2016 3 series boasts an optional color head-up display, parallel and perpendicular parking assist, a navigation system with 3-D visualization in cities and over-the-air maps.

The smaller, less fussy 2-series coupe is what the 3 series used to be, Fisher says.

"The new BMW 3 series is a BMW 2 series — the 235i is the most classic," he said. "It is fun to drive, luxurious and can hold its own with the luxury and livability."
Also:
In Lutz's view, the 3 series faces another challenge. He figures that in the next five years, sporty compacts will matter less as the market continues to shift to compact crossovers: "More and more, worldwide customers are abandoning sedans. If the current trend continues, they will be very rare in five years."

Laham, the Cape Cod dealer, admits some of his former 3-series customers now own the BMW X3 or X1 compact crossovers: "If they don't buy another 3, they buy a variation — an X3 or an X1." But, he adds, "all of that technology has come off the 3 series."
4th Gear: Mitsubishi Goes Big On Electric And Hybrid Crossovers
What's the future of the Mitsubishi brand in the U.S., where it struggles with an aging and somewhat uncompetitive lineup? The mighty power of electricity, apparently, but mostly in crossover form. Here's Automotive News:
Mitsubishi Motors Corp. will fortify its fragile U.S. rebound with three electrified crossovers in five years, a bolstered regulatory listening post in Washington, D.C., and a new advanced technology office in Silicon Valley opening in January.

[...] That likely means no new sedan to succeed the aging Lancer and no dedicated electric vehicle to replace the subcompact i-MiEV, he said.

Instead, Mitsubishi will introduce a new small coupe-styled crossover after the fall of 2017 to slot between the midsize Outlander and the compact Outlander Sport. A redesigned Outlander will arrive sometime after 2017, and the next-generation Outlander Sport will arrive around 2019, Masuko said.

"We are strong in SUVs and four-wheel drives. And that is what we would like to focus on as core models in the U.S. market. We have changed direction," Masuko said. "We are going to allocate more resources to the areas where we are strong in the U.S."
5th Gear: Ford's Labor Costs Rise
As part of Ford's new deal with the United Auto Workers union, labor costs are set to increase less than 1.5 percent per year, reports The Detroit News:
The Dearborn automaker said the deal, which includes across-the-board raises for workers, a $9 billion investment and the creation or retention of 8,500 jobs, will "effectively closes the labor cost gap to General Motors and substantially narrows the gap to Fiat Chrysler Automobiles."

The Center for Automotive Research estimated Ford's average hourly U.S. labor costs were $57 before the deal, and it predicts that number will rise to $60 by 2019. Coming into talks, GM's hourly labor costs were at $55 and FCA's were at $47. By 2019, CAR estimates GM's will be $60 and FCA's will be $56 per hour.
Reverse: Unsafe At Any Speed Turns 50
Neutral: How Does The 3 Series Stay The Benchmark?
Competition is tougher than ever for BMW's staple car, and more than a few auto critics have said the current one isn't as fun as its predecessor. But it is bigger and more high-tech, which buyers seem to want. How does it stay ahead?
---
Contact the author at patrick@jalopnik.com.