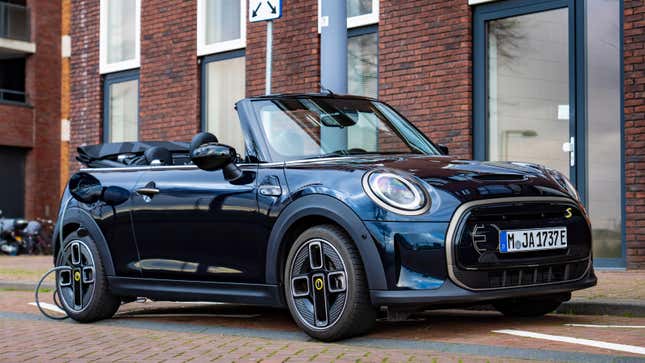 It is, to put it politely, a bit curious that Mini cars are still sold on American shores, complicated as they once were, and appealing to a demographic — European curious, interested in non-luxury "small" cars, not interested in big trucks — that seems ever shrinking in America. Except, maybe, when it comes to EVs in the next decade, because a cost-conscious, small, and sort of stylish EV that doesn't try to do too much could be a sell someday, because no one else is really trying it. BMW already did a little bit, even, with the i3, but that was too weird to be for many people beyond Californians.
Which brings us to an item today in Automotive News, which says that Mini might be pushing on by considering building some EVs in Mexico, where BMW — owner of Mini — already makes 2 and 3 Series. Those cars are going all-electric, and thus Mexico might also be a natural place to build a Mini EV. Such a move could position said Mini EV to be eligible for the $7,500 federal tax credit.
A Mini electric crossover could go into production at BMW's central Mexico factory in the second half of the decade, sources briefed on the plans told Automotive News.

The $1 billion plant in San Luis Potosi produces BMW's 2 and 3 Series sedans and will build the next-generation 3 Series electric sedan and iX3 electric crossover. One of the sources, who asked not to be identified, said that the new Mini model will share the same platform as the 3 Series EV and its crossover sibling.

It's unclear how far along Mini is in its decision-making regarding North American production. A spokesperson declined to comment.
This is, somewhat predictably, music to the ears of Mini dealers in the U.S., who are currently selling a product that seemed pretty sensible on these shores a decade ago but nowadays is wildly out of step with market trends. An EV Mini that could be had here with the $7,500 tax credit? Now we're talking. Maybe.
Dealer Nicholas Alexander said North America-made Minis would help lift the brand's awareness and competitiveness in the U.S.

Alexander, president of Nick Alexander Mini in Los Angeles, said the China-made EVs are "desperately needed here." But the import tariff "would make those models unsellable here," he added, noting it would tack nearly $7,000 onto the sticker price.

"China production immediately puts us from having a well-equipped, well-priced, well-loved car into something that's just out of people's price range," Alexander said. "So if they could move that production to North America, I'm all for it."
Mini is, more so than other automakers, a bit handicapped by its very name, even as they are apparently working on bigger Minis, cars that are still Mini but not mini, nor are they maxi. I suspect that Mini will be around here as long as the 3 Series, in any case, which is to say possibly forever, unless BMW gives up. Until then, the more the merrier.