This is the Morning Shift, our one-stop daily roundup of all the auto news that's actually important — all in one place at 9:00 AM. Or, you could spend all day waiting for other sites to parcel it out to you one story at a time. Isn't your time more important?
---
1st Gear: Kia Forte Shoots New Cee'd All Over Geneva
Thanks to the global economic crisis of two years ago, 2012 is going to be a bit of a down year for new product from automakers. Except, apparently, one. Kia's released these first few images of the new Cee-apostrophe-d this morning (we call it the Kia Forte 'round these here parts), hot on the heels of their Monday release of sketches showing off a new RWD flagship sedan. The refreshed five-door hatch looks... well... good. Expect a refreshed three-door hatch and wagon to come lapping up alongside it soon.
---
G/O Media may get a commission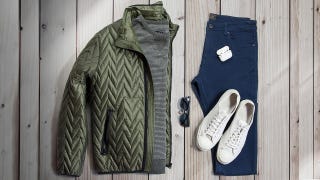 60% off
Jachs NY Fall Sale 60% Off
2nd Gear: Heather Peters' Honda Settlement Pushes Five States To Extend Class Action
The Associated Press reports that a judge Tuesday granted California and four other states more time to consider objecting to a class-action settlement between Honda and car owners over inflated fuel-efficiency claims about the automaker's hybrid vehicles. This sudden interest in the proposed settlement comes shortly after Honda owner Heather Peters won $9,867 in California small claims court — much more than the couple hundred dollars cash that the settlement is offering. Attorneys general in California, Iowa, Massachusetts, Texas and Washington asked last week — only two days before Saturday's deadline — for more time to consider the settlement with about 200,000 Honda Civic hybrid owners. If you'd like to see our definitive "How To" to take an automaker to small claims court — here it is. Conversely, if you're an automaker and want to see how to unsuccessfully defend against it, read this.
---
3rd Gear: Carrozzeria Touring Superleggera And Alfa Romeo Building A Flying Saucer
In the 1950s, Alfa Romeo and Italian coachbuilder Carrozzeria Touring worked on a series of concept cars designed to test new tech that could easily make its way to the racetrack. The most well known — based on the 1900 — was the Alfa Romeo Disco Volante. At next month's Geneva Motor Show, Carrozzeria Touring Superleggera, the modern heir to the Carrozzeria Touring throne, will unveil this — the new 2012 Disco Volante Concept. Just like the 1952 concept, the new Disco Volante will be based on a road-going Alfa Romeo, in this case, likely the 8C Competizione. Although why anyone would want to sully an already perfect body is completely beyond me.
---
4th Gear: Mini "Clubvan" To Drop A Load Of Packages On Geneva
And speaking of Geneva, we're told by the always watchful Auto Motor und Sport that Mini plans to unveil a "craftsman" version of the Mini Clubman. Basically, rather than two seats up front and a bench seat in the back there would be a cargo area and only two seats. The name they think it'll be sporting? Clubvan.
---
5th Gear: Tesla Bags $40 Million In Sales In One Week
I will say this about Elon Musk. He's brilliant when it comes to marketing. Only he could find a way to run an automaker that's currently building not a single vehicle, reveal a new one — the Model X crossover — off the same platform as another vehicle he's not building — the Model S sedan — and take in $40 million in advance sales in less than a week. See, brilliant. At this rate all he needs to do to continue raising cash to build the first car is to just promise a new model every week. And then keep doing that to raise money for the next model, and the next model, and the next... wait, I feel like I've heard of this method of raising cash.
---
6th Gear: Tata Shakes Out Impressive Stock Performance Thanks To Land Rover, Jaguar
Bloomberg reports that, thanks to surging sales in China and Russia for Land Rover and Jaguar, Tata Motors has advanced 60% this year on the Mumbai stock exchange. See what happens to a brand when you put in a bit of money, some direction and kill off infighting and squabbling among senior execs? You actually can make money off a luxury brand.
---
Reverse:
⏎ Virtual and Analog Car Culture at the International Toy Fair. [New York Times]
⏎ Toyota boosts US sales with rental cars. [AP via Boston.com]
⏎ Investment group buys 5.8% of GM. [Detroit News]
⏎ Opel Squandering GM's U.S. Profit Rankles Stock Investors. [Bloomberg]
⏎ Can We Please Get a Little More Honda and Mazda Out of Hyundai? [Car & Driver]
⏎ Chrysler finance arm would buoy expanding sales. [Automotive News]
⏎ AMG and Volkswagen interested in buying Ducati. [Le Blog Auto via Left Lane News]
⏎ Road Use by E.V. Drivers: To Tax or Not to Tax? [New York Times]
⏎ Saab dealers look to add 2nd brand. [Detroit News]
⏎ New Volkswagen Phaeton is a Go. [Motor Trend]
⏎ KBB taps AutoTrader exec Jared Rowe as new president. [Automotive News]
---
Today in Automotive History:
On February 15, 1998, after 20 years of trying, racing great Dale Earnhardt Sr. finally wins his first Daytona 500, the National Association for Stock Car Auto Racing (NASCAR) season opener and an event dubbed the "Super Bowl of stock car racing." Driving his black No. 3 Chevrolet, Earnhardt recorded an average speed of 172.712 mph and took home a then-record more than $1 million in prize money. Following his victory, crews from competing teams lined the pit road at the Daytona International Speedway in Daytona Beach, Florida, to congratulate Earnhardt, who drove his car onto the grass and did several celebratory doughnuts, or circles. [History]
Show us your tips!
Got tips for our editors? Want to anonymously dish some dirt on a competitor? Know something about a secret car? Email us at tips@jalopnik.com.
Lost in our new layout?
Click here for the Opposite Lock or Tips forums. Want a more "blog-like" look? Click the button up top next to "Top Stories."
Get more Jalopnik!
Want even more Jalopnik? Want to know which of your friends read us? "Like" us on Facebook and follow us on Twitter.