This is the Morning Shift, our one-stop daily roundup of all the auto news that's actually important — all in one place at 9:00 AM. Or, you could spend all day waiting for other sites to parcel it out to you one story at a time. Isn't your time more important?
---
1st Gear: U.S. Treasury Ups Estimate Of Bailout Losses To $23.6 Billion
The U.S. Treasury Department upped its estimate of government losses in the $85 billion auto bailout by $170 million — to $23.77 billion, up from $23.6 billion. Although the current increase is being attributed to the sharp decline of GM's stock price over the last six months, it's not the first estimated increase. Last fall, the team at Treasury boosted its forecasted loss from $14 billion to $23.6 billion.
---
G/O Media may get a commission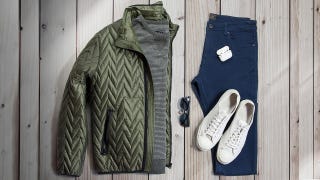 60% off
Jachs NY Fall Sale 60% Off
2nd Gear: Tesla Model X Crossover Teased, Darkly
Tesla's revealed a teaser shot of the Model X crossover ahead of its reveal at the all-electric automaker's L.A. design studio on the 9th of February. While it looks as though there's some similar design cues from the Model S sedan, the X looks like a vehicle with a shorter hood, a taller roof-line and more bulbous sides. Exactly what you'd expect from a crossover, right? Oh, I'm sorry — were you sleeping? Sorry to wake you.
---
3rd Gear: Chrysler Expects Strong 4th Quarter Profits
Taxpayer losses notwithstanding, the AP reminds us that Chrysler reports fourth-quarter and full-year earnings on Wednesday. Expectations are that the now Italian-owned automaker will report its first annual net profit since 1997. Chrysler's fourth-quarter and full-year revenue and profits are almost certainly going to increase from 2010, when Chrysler lost $652 million. CEO Sergio Marchionne has said he expects to post a $600 million profit, excluding the refinancing charge.
---
4th Gear: 2013 Audi A3/S3/RS3 Details Leak Out Ahead Of Possible Geneva Reveal
First, digital images of the new A3 showed up on-screen at CES, now Auto Motor Und Sport is giving us details. Although we don't sprechen sie Deutsch, World Car Fans does. They tell us ze Germans claim "the model will ride on the new MQB platform which should enable it to weigh approximately 10% less than its predecessor. Under the hood, petrol engines are slated to include a 1.2-liter with 104 hp, a 1.4-liter with 120 hp to 178 hp and a 2.0-liter with 208 hp. On the diesel side, we can expect a 1.6-liter TDI with 104 hp as well as a 2.0-liter TDI which churns out 138 hp and 178 hp." Oh, and there'll also be an S3 with a turbocharged 2.0-liter four-cylinder likely producing 276 hp and an RS3 reportedly keeping its five-cylinder engine but have an increased output of 345 hp. Yowza!
---
5th Gear: Lamborghini Calls SUV Report "Speculation"
When contacted by Autocar about reports in Italian magazine Quattroruote that a Lamborghini SUV will be unveiled at the Beijing Motor Show in March, a Lamborghini spokesperson said the story is "speculation." Quattroruote claimed the car, which is being billed as a spiritual successor to the LM002, will be based on the next generation Porsche Cayenne platform and feature styling influenced by the Aventador. According to the report, it would be powered by a detuned V10 sourced from the Gallardo, while a hybrid model is also possible. You know what comment from a spokesperson would tamp down those rumors even more? A "no." So I guess we'll just have to wait for March to find out for sure.
---
6th Gear: Camaro ZL1 Beats 2013 Shelby GT500... On Facebook
Last week — after our first drive of the Chevy Camaro ZL1 — we asked our Facebook fans to answer a question burning in the minds of countless dozens: Which steroid-laced 'murican muscle car's got you most excited? The upcoming GT500 or the Camaro ZL1? One week and over 17,000 votes later — and with both the Chevy Camaro and Ford Mustang fan pages weighing in — we've got an answer. The GT500 brought in 8,109 votes — but the ZL1 picked up the win by a sharply-pointed, deep-running nose with 9,084 votes. This week's big poll stays with the 'murican theme: Which upcoming new American supercar has you more excited? Answer here.
---
Reverse:
⏎ A Nation of Drivers. [Wall Street Journal]
⏎ Ford's Q4 Just A Speed Bump, Analysts Say. [Forbes]
⏎ Dean Moon at the National Hot Rod Association Museum. [New York Times]
⏎ Pulitzer winner supports electric cars. [Technician Online]
⏎ Honda slashes annual profit outlook on disasters, yen. [Automotive News]
⏎ Robb out, Heinrich in at BMW Motorrad design. [Hell For Leather Magazine]
⏎ Is Ferris Bueller 'sequel' the right vehicle for a Honda CR-V? [Christian Science Monitor]
⏎ Daimler ready to take controlling Kamaz stake. [Reuters]
⏎ Ex-Chrysler exec gives Oakland U $21M. [Detroit News]
⏎ Domestics gained market share in California last year. [Automotive News]
⏎ U.S. regulators upgrade Jeep Liberty airbag probe. [Reuters]
⏎ Japanese suppliers, execs to pay $548M in price fixing. [Detroit News]
---
Today in Automotive History:
On this day in 1976, American racecar driver Buddy Rice was born. Rice is best known for winning the 2004 Indianapolis 500 while driving for Rahal Letterman Racing, and the 2009 24 Hours of Daytona for Brumos Racing. [Wikipedia]
Show us your tips!
Got tips for our editors? Want to anonymously dish some dirt on a competitor? Know something about a secret car? Email us at tips@jalopnik.com.
Lost in our new layout?
Click here for the Opposite Lock or Tips forums. Want a more "blog-like" look? Click the button up top next to "Top Stories."
Get more Jalopnik!
Want even more Jalopnik? Want to know which of your friends read us? "Like" us on Facebook and follow us on Twitter.