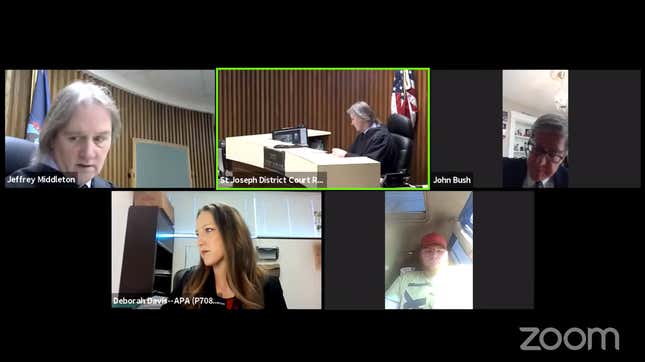 Virtual court delivers solid absurdity thanks to the silly ways that lawyers and defendants make their appearances through Zoom. A Michigan man is a strong contender for one of the worst virtual traffic court appearances as he showed up to court for his suspended license from the driver seat.

The virtual traffic court fails keep on coming. A couple of weeks ago, a plastic surgeon decided to appear in traffic court from the operating room. Another unfortunate lapse in judgement happened this week. With his license already suspended for a prior infraction, a Michigan man appeared in court from the driver seat of a car, reports WXYZ Detroit.
This video comes from Michigan 3B District Court Judge Jeffrey Middleton's YouTube court stream and my, he's not happy. The exchange starts at the 7:48 mark with the judge telling the suspended driver to remove his hat:
In the March 8 court stream, the defendant was being sentenced after pleading to having no insurance and driving with a suspended license. Judge Middleton got straight to the point, mentioning the man's long list of unpaid fines. However, he was least impressed with the driver appearing in court from a driver seat, from the stream:
The one I'm struggling with is the driving suspended. I believe you drove wherever you are in the vehicle you're in and you're dumb enough to go on video with you sitting in the driver's seat of a vehicle. [...] Makes me think you haven't gotten the message.
If that wasn't bad enough, the judge asked the prosecuting attorney for her thoughts. She revealed that in addition to driving while suspended, the car he was driving, a 2000 Ford Taurus, was hauling four adults, three children and one child, an infant, wasn't secured. In addition to the definitely overloaded car, he was speeding 75 mph down a country road. The attorney finished by asking for some sort of jail time for the individual.
Judge Middleton gives our driver a chance to explain himself, from WXYZ Detroit:
The man told the judge he was sitting in his boss' vehicle and that he didn't drive there. He said he didn't want to appear in court while at someone's house. He said his boss picks him up and takes him to work.
Ultimately, his sentence ended up being a payment plan plus a weekend in jail.

If you have to appear in virtual court for something during these times, it's probably a good idea to avoid showing up for court in a place you're not supposed to be. Also, please strap in your little bundles of joy!