Surprise! A Mercedes won't win the Formula One Spanish Grand Prix. Mercedes teammates Lewis Hamilton and Nico Rosberg took each other out on the first lap of the Spanish Grand Prix.

Lewis Hamilton had more speed coming out of Turn 3, but Nico Rosberg shut the door on Hamilton anyway to defend. This forced Hamilton onto the grass, where he lost control and took Rosberg out with him.

After bad luck all season long, Hamilton was particularly gutted, tossing his steering wheel from the car immediately after his car came to a stop. He started from pole position today.

Rosberg had a better race start, however, and overtook Hamilton at turn one for the lead. Naturally, Hamilton was eager to reclaim the lead when both cars came into turn four, but that happen.

Both drivers have been called to the stewards.

This should be awkward in the Mercedes garage.

UPDATE [11:13 a.m.]: No action was taken by the stewards on this incident.

Hamilton spoke with Sky Sports immediately following the stewards' meeting and explained that Rosberg had started the race in the wrong engine mode, which put him 180 brake horsepower down from Hamilton. Rosberg was in the process of changing that setting when he squeezed Hamilton onto the grass.

G/O Media may get a commission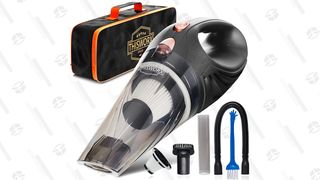 Save 50%
ThisWorx Car Vacuum Cleaner
When Sky Sports asked Hamilton if he laid any blame on anyone, Hamilton responded, "I'm not going to get into it."