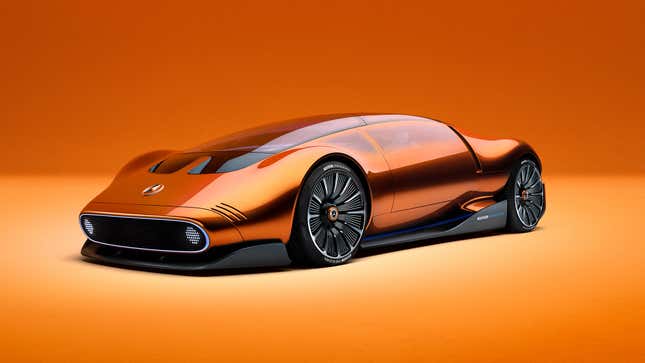 Concept cars, by definition, tend to be pretty rad. But some are radder than others; namely, the ones designed to do more than just look good. The Mercedes-Benz C111 is in that elite group of concepts. The tangerine Bruno Sacco-penned wedge was not only otherworldly in its design way back in 1970; it also served as the German automaker's testbed to push its rotary and diesel engine technologies as far as the time would allow.

Mercedes built 16 of these prototypes in total, and they remain among the company's proudest achievements. This week it honored the series with a fresh take, called the Vision One-Eleven.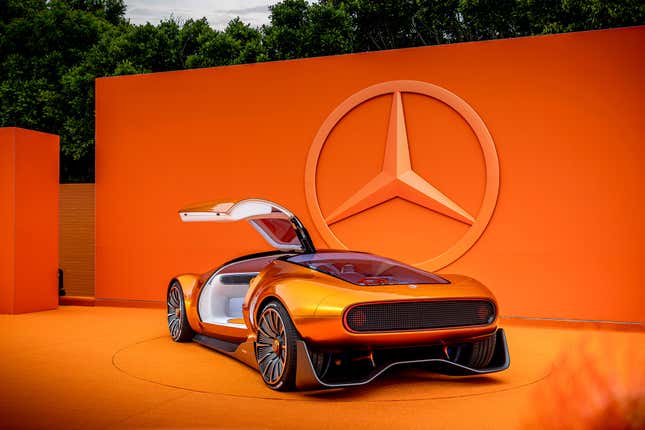 As you'd expect from a modern study intended to predict where the industry's headed rather than revisit where it's been, the Vision One-Eleven isn't powered by a diesel inline-five or a Wankel rotary — regrettably — but instead an axial-flux motor developed by a British subsidiary of Mercedes, called Yasa. That motor is supplied with energy from a "liquid-cooled cylindrical-cell battery with Formula-1 inspired cell chemistry," per Merc's technology boss Markus Schäfer.

Axial-flux motors are uncommon in production cars, but a few — like the new McLaren Artura — incorporate them to save on weight and space. These types of motors generate an electromagnetic flow that runs parallel to the motor's rotational axis, rather than perpendicular. The net performance gains: improved power density and reduced heat emissions.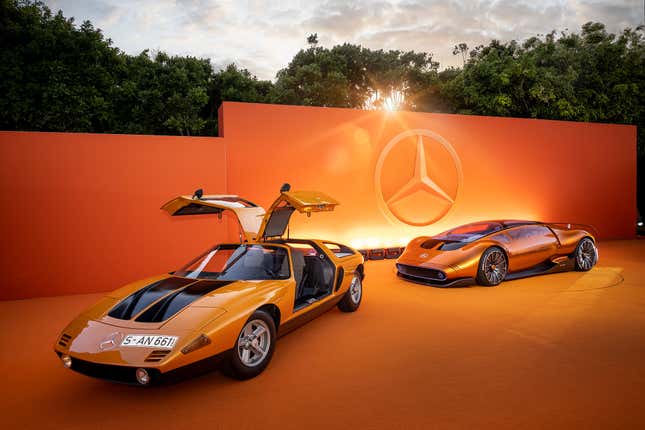 But of course what's underneath the One-Eleven's sinuous shell is only half the story, and the new concept elegantly pays respect to its predecessors while also incorporating forward-looking cues. The low-slung front end with black intakes and the oversize Silver Arrows badge are direct callbacks, as are the headlight and taillight designs, repurposing the C111's rear-end graphic.

In profile, however, the One-Eleven carves its own path, with a more rounded, less wedge-like silhouette. It's an evolution that also reflects Mercedes' modern design tendencies with cars like the EQS, and the convergence actually works pretty well in the end.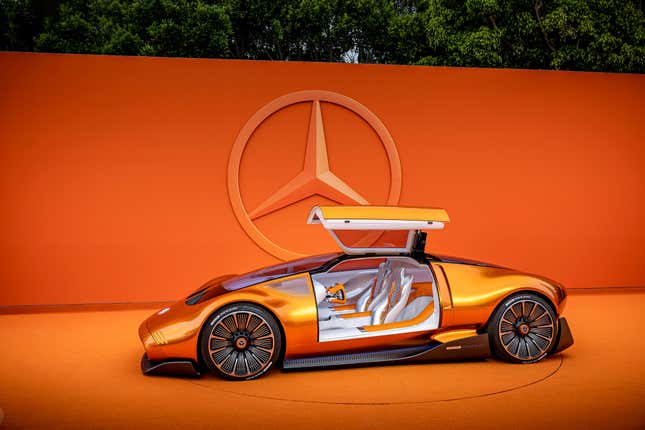 The C111's interior wasn't exactly a priority either, which is another way in which the Vision One-Eleven differs. The metallic leather seats sit upright or retract to a "Lounge" mode, depending on whether the person in the driver's seat is actually driving the vehicle or being driven themselves. Look — it wouldn't be a futuristic concept without an element of autonomy, would it?

I can forgive that, though. The One-Eleven is recalls a time when designers and engineers not only dreamed, but tested their dreams to realize the future. It doesn't capture the C111's purpose, but it does honor its spirit, and that's enough for me.