The Mercedes GLE isn't the same old Mercedes ML that started the luxury CUV segment; It's now bigger, fancier, safer and offers more trim levels than you could ever imagine. What do you need to know before you buy a Mercedes GLE? Don't worry, we'll tell you everything right here in our Buyer's Guide.

The Mercedes ML320 was a big deal. So big, in fact, that we called it "One Of The Most Important Cars Of Our Lifetime." Why? Because the ML started it all. It was the beginning of posh, car-like luxury SUVs as we know them today, and now they're on every damn street in America.
The replacement to the ML is the new GLE, and it's a lot like its grandpa. Sure, it's longer, wider and heavier, but it still shares some design cues with that revolutionary '97 car, and it's still decently capable off-road. It gets features like a low range gearbox, underbody skid plates and locking differentials, and while it's no G-Wagon (don't let Jurassic World fool you), it's at least got the goods to get you through some moderate trails. Just like the ML320.
But the mid-size Mercedes has learned a few thing through the years, and the GLE has grown up and expanded. Forget about your ML320's little 3.2-liter V6 and 5-speed auto. The GLE comes with a slew of engine options. You want a 2.1-liter turbodiesel? Sure. Fancy a 3.5-liter naturally aspirated V6? No problem. You'd rather have a turbo with your V6? Comin' right up. Still not enough power? Grab the AMG's 5.5-liter V8. Feeling bad about pollution? Grab the plug-in.
Oh, but you'd rather have a coupe version? Why the hell not.
The GLE comes in more variations than a Chipotle Burrito, and the price points range from a basic burrito-bowl-esque $52,500 to a a loaded double-meat-with-guac-like $109,300. That's a span of nearly 57 grand!
G/O Media may get a commission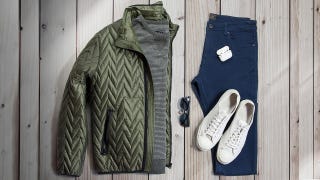 60% off
Jachs NY Fall Sale 60% Off
What's New About The 2016 Mercedes GLE
The GLE started out as a third generation M-class (called the W166) after its debut for the 2012 model year. That car brought new styling, a fancy new cabin, a fresh COMAND infotainment system, an inch more overall length, fancy new headlights, and more driver-assist features than ever. Engine options for 2012 were: a 302 horsepower 3.5-liter V6, a 240 horsepower 3.0-liter turbodiesel, a 402 horsepower 4.6-liter V8, and a 518 pony 5.5-liter V8.
For 2013, Mercedes added an available off-road package, which offered a two-speed transfer case, Airmatic adjustable suspension, locking differentials and six selectable drive modes. Also new for '13 was a rear-wheel drive variant of the ML350, available massaging seats and a few changes to standard equipment.
Not much happened to the Mercedes ML for 2014, but 2015 saw the replacement of the 3.0-liter turbodiesel in the ML350 BlueTEC with a 2.1-liter diesel in the new ML250 BlueTEC. The 4.6-liter V8 in the ML400 also got das Boot, replaced by a 3.0-liter turbo V6 in the ML350.
But in 2016, after nearly two decades with the legendary "M-Class" name, Mercedes switched up their naming convention, so the M-Class became the GLE-Class. In addition to the new name, the SUV got a mid-cycle refresh. There's a new GLE550e plug-in hybrid available in ZEV states, the old 518 horsepower AMG ML63 became a 550 horsepower AMG GLE63, and a new 577 horsepower AMG GLE63 S joined the club.
The newly-named, refreshed Mercedes got a new grille, bumpers, headlights, LED taillights, front fenders and wheel designs. The interior also got a redesign, and Collision Prevention Assist Plus with automatic braking, DISTRONIC PLUS with Steering Assist, Magic Vision Control, eight-inch COMAND infotainment screen and dynamic select showed up for 2016. Oh, and 2016 also brought the BMW X6-fighter, the GLE Coupe (called the C292).
Which One We'd Buy
The Mercedes GLE comes in two body styles, which Mercedes refers to as SUV and Coupe. The GLE SUV comes in a million different trims, ranging from slow to downright fire-breathing: GLE300d (201 HP 2.1-liter turbodiesel), GLE350 (302 HP 3.5L V6), GLE350 4MATIC (302 HP 3.5L V6), GLE400 4MATIC (329 HP 3.0L turbo V6), AMG GLE63 (550 HP turbo V8) and AMG GLE63 S (577 HP turbo V8).
The Coupe, though, comes in only two trims, and neither of them is slow: GLE450 (362 HP 3.0L turbo V6) AMG Coupe and AMG GLE 63 S Coupe (577 HP turbo V8).
All models get electric power steering, a double wishbone front suspension, and a multilink rear setup. Brakes on the slower models, the GLE300d and GLE350 are 13-inch rotors in front and 12.8-inch discs out back. Faster models, the GLE450 AMG and GLE400, get 13.8-inch discs in the front and 13s in the rear. Finally, the big guns, the 362 horsepower GLE 63 and 577 horsepower GLE 63 S, come to a halt thanks to huge 15.4-inch pizzas at the bow and 13.6-inch saucers at the stern.
We haven't driven the revised GLE, but poking through the configurator, the 300d looks compelling. Sure, it's slow, with a 0-60 MPH time of only 8.9 seconds, but the thing makes 369 lb-ft of torque and it's the cheapest GLE you can buy with four-wheel drive.
And it's not like the diesel is outfitted like a Trabant. It comes standard with 18-inch alloy wheels, power sunroof, wood interior trim, 4.5-inch instrument cluster display, Collision Prevention Assist Plus, Attention Assist, LED daytime running lamps, Crosswind Assist, Adaptive Braking, KEYLESS START, rain sensing wipers, auto-dimming rearview mirrors, power heated front seats with driver memory, dual-zone automatic climate control, power tilt/telescoping steering column, MB-Tex vinyl seats, power folding mirrors, eight-inch infotainment screen and Bluetooth. Without options and with the $925 destination fee, we'd be looking at a $53,425 bill.
What do we really want, though? The 577 horsepower AMG GLE63 S SUV, but at over $108,000 with destination, that's a hard pill to swallow. Even if it does rocket to 60 MPH in 4.2 seconds.
[Build Your Own GLE SUV] [Build Your Own GLE Coupe]
Important Facts At A Glance:
MSRP: $51,100-$109,300 [GLE300D-GLE63 S Coupe]
Top Speed: 150 MPH (estimated)
Acceleration: 4.2-8.9s to 60 MPH [GLE63 S Coupe-GLE300D]
MPG: 13-22/17-29/15-24 [GLE63 S-GLE300D]
Engines: 2.1L turbodiesel, 3.7L V6, 3.0L turbo V6, 5.5L turbo V8
Horsepower: 201-577 HP [GLE300D-AMG GLE63 S]
Torque: 273-561 lb-ft [GLE350-AMG GLE63 S]
Curb Weight: ~4,800 pounds (estimate) IIHS Rating: Top Safety Pick
Transmissions: Seven-speed automatic
Drivetrain Layout: Front engine, RWD/AWD
Photo credit: Mercedes