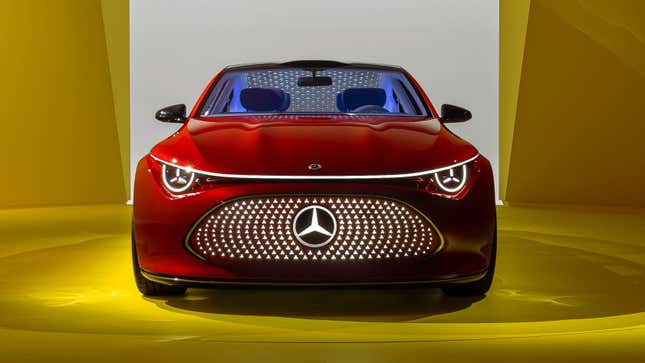 The latest Mercedes-Benz CLA concept may not exactly be everyone's cup of tea, but it's still a pretty cool little car. Aside from the sleek design and futuristic cabin, it also promises 466 miles of range, which should convert to a little less than 400 miles of range in EPA testing. The most controversial part of the design, though, is definitely the daytime running lights embedded into the grille surrounding an illuminated Mercedes badge, which unfortunately sounds like it will make it to production.
This NYC Garage Takes Vanlife To The Next Level | Jalopnik Visits
In fact, you can probably expect similar illuminated grilles to make their way into all future Mercedes electric vehicles. Speaking to Autocar, Gorden Wagener, Mercedes-Benz's head of design, said the German automaker believes signature illuminated grilles will be the EV equivalent of a good exhaust.
"Iconic elements like the new daytime running lights, the star — that's a new signature for Mercedes, and it's very cool," he told Autocar. "It's a new electric exhaust: electric cars obviously don't have one, and for customers having good pipes is always great, so these are the new pipes.
"It is a new interpretation of the Mercedes grille, but we still use the grille. There are so many faceless cars around, and we want to make a difference here. Our grille is very iconic," he continued. "What's crucial for us is being iconic. We want to make a difference to the sea of sameness, all these faceless cars that have no identity. We want to stick out of that with iconic features, and with Mercedes we have all the possibilities to do so."
Let's just say we're not exactly sold on this idea. Then again, maybe we're just a bunch of old fuddy-duddies who don't know how to sell luxury cars. For all we know, this could take off and be a wild success for Mercedes. If that's the case, good for them. But that doesn't mean we're going to be happy about it.