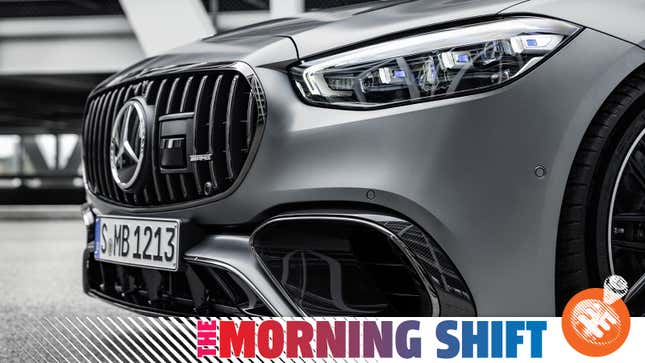 Mercedes-Benz isn't as bullish about the future as you'd expect it to be, car companies are still working through their semiconductor doldrums at different paces, and Russia barely has a new car market anymore. All that and more in this Friday edition of The Morning Shift for February 17, 2023.

1st Gear: Just Hoping for the Best
Mercedes-Benz ended 2022 on a high note, pulling $21.8 billion in annual earnings — above analyst projections — and a 14.6-percent adjusted return on sales. The company would seem to have every reason to be optimistic heading into 2023, but chief executive Ola Källenius is rather downbeat about the near term. Margins are expected to take a small dive, and the state of the silicon supply chain has nothing to do with it. From CNBC:
[Mercedes-Benz] forecast a lower adjusted return of 12%-14% on sales for the cars division in 2023 and group earnings slightly below 2022, even though sales at the Mercedes-Benz Cars business are expected at the same level.


"In 2022 we were grappling with primarily semiconductor shortages, but also an energy crisis in Europe and a bit of a stop and go in China due to Covid," Mercedes-Benz CEO Ola Källenius told CNBC's Annette Weisbach, adding that the full-year results were nonetheless "financially very robust."

"If we look at 2023, we think that we will see a gradual easing of the supply chain constraints. We're not out of the woods completely yet but we expect that to get better," he said.

However, he added that the company is "very aware" of the macro environment. "Interest rates are rising so we need to watch what the economy will be doing in the main markets," he said.
The bulk of Merc's growth last year came from increasing prices, not volume — so don't expect the new mantra of making everyone pay more for fewer cars to change anytime soon. It's working well for them and their peers. What you can expect from Mercedes, particularly in Europe, is a gradual transition to direct sales. From Reuters:
The carmaker is "quietly" turning to a direct sales model in various European markets including Britain and intended to do so in Germany as well, Chief Executive Ola Kaellenius said, adding: "You turn yourself from a wholesaler into a retailer. It changes your whole attitude in how you run the business."

Selling directly saves costs for the company and removes concerns for customers that they could get a better price at another dealer, he added.
Of course, Mercedes can't get away with that in the U.S. quite yet, so for the time being this is a fully rest-of-the-world initiative. Automakers are chipping away at it though. Back in April 2021, National Automobile Dealers Association CEO Mike Stanton told Automotive News that "the heat [had] been turned up just a little bit" on the franchise model.
2nd Gear: AutoNation Sees Light
Used car sales might be slumping, but AutoNation saw signs of life in new car sales last quarter, leading to a 3 percent boost to the retailer's share price as of Friday morning. From Reuters:
The automotive industry is starting to show signs of a gradual recovery from a global supply-chain crisis that had curtailed production, enabling dealers such as AutoNation to boost their new-vehicle deliveries to customers.

"We expect consumer demand for personal vehicle ownership to remain strong for the foreseeable future," AutoNation Chief Executive Mike Manley said.

AutoNation's revenue from new vehicles and after-sales rose 8% and 7%, while used-vehicle sales fell 8%.

Used-car retailer CarMax Inc had also reported an 86% slump in third-quarter profit in December, along with pausing some hiring, halting certain share buybacks and cutting expenses.
It's good to hear from old Fiat Chrysler boss Mike Manley — it's been a while. Here's hoping Manley feels so confident about the future that he's willing to see that rumored deal with Alpine through.
3rd Gear: Chips Remain a Problem for Some, Not All
We're reaching the point where certain automakers are starting to look up about the whole semiconductor thing, while others aren't out of the woods yet. Automotive News has a worthwhile read about the current state of play, and who's winning and losing right now:
Honda told shareholders this month the semiconductor shortage is bottoming out — but that it has nonetheless cut its global sales expectation for the year ahead. BMW, Mercedes-Benz, Renault and Nissan have not been affected so far this year by the shortage, according to a report this month from Bank of America Global Research analysts, citing data from S&P Global.

But the positive outlook has not spread to every automaker.

Bank of America said Volkswagen is projected to cut about 65,000 autos from its production schedules in the first quarter of this year because of the shortage. Toyota is expected to lose about 58,000 vehicles, while Geely could lose 50,000 units as it grapples with the shortage on top of the impact of COVID-19 in China. [...]

The chip shortage has eased significantly from its peak in 2021 and even since last year. According to Bank of America, the industry has eliminated 200,000 vehicles worldwide so far this year, down from about 500,000 per quarter worldwide since the third quarter of 2022, and down from a peak of 3.4 million units of lost production in the third quarter of 2021.
The solution carmakers have chosen isn't the old-school "just-in-time" approach. Nor is it accumulating a stockpile of chips for a rainy day, particularly because you can never be sure how long the rainy days will last. It's actually strategic partnerships with fabs, to ensure you're near the top of their list of clients. The auto industry being the auto industry, it just always assumed it occupied that top spot, until the pandemic informed it otherwise. That's led to a "rebalancing of power" that was probably long overdue, according to S&P Global Mobility's Phil Amsrud:
"The OEMs and the Tier 1's, for the last many years, have been able to dictate what the negotiating terms are for annual contracts," he said. "But with the shortages, that has been inverted. It's been the semiconductor and foundry guys that are saying, 'These are the terms that I need to have in order to support you.' "
4th Gear: VinFast Gets a Permit
EV startup VinFast has needed some permits to begin construction at the plant it's been eyeing for a good while in North Carolina. As of Friday, the company now has at least one of the required permits. From Reuters via Automotive News:
VinFast was awarded an "Air Permit," the company said, adding it was still seeking other permits for the Chatham Country factory, but would start a tender for construction.

"The Air Permit allows us to start construction on phase 1 of the factory. We will start construction soon," VinFast said, without specifying any time frame.

The company completed the application for the Air Permit in December last year and received approval on Feb. 9, according to the North Carolina Department of Environmental Quality website.

It has also applied for a permit from the U.S. Army Corps of Engineers designed to minimize damage to water quality and wetlands.
December-to-February is a reasonable turnaround time for state government, if you ask me. Especially with the holidays smack-dab in the middle. Frankly, VinFast should count its lucky stars that the office didn't just lose its application over the extended break. Maybe this recent bit of good news will convince the company's billionaire founder to start investing in it again.
5th Gear: Finding a New Car in Russia Got Real Tough, Real Fast
If you've been curious about the effect that sanctions on Russia have had on the country's new car market, Reuters has published an illuminating (and rather predictable) update:
Spending on new cars in Russia more than halved last year as the auto industry felt the full force of Western sanctions over the conflict in Ukraine, with production plunging, prices soaring and buyers switching to cheaper used models.

While analysts continue to debate the overall effectiveness of economic curbs on Russia, there can be no doubt they have hit hard in its car industry, which was heavily reliant on foreign manufacturers and imported parts.

Spending on new cars slumped 52% to 1.5 trillion roubles ($20.4 billion) last year, while the number of new cars sold tumbled by 58.8%. Car production also slumped to its lowest since the 1991 collapse of the Soviet Union as Western automakers halted production and sold factories.

Overall spending on new and used passenger cars dropped over 15% in 2022, as inflation pushed up prices and drove living standards down, data from analytical agency Autostat shows, despite a 14% rise in spending on used cars.
As a result, used cars were responsible for nearly three quarters of all sold last year. And as for those new cars you can still get, it's basically all "budget Ladas and Chinese cars," according to an industry analyst.
Reverse: More Than 21 Million Served
On this day in 1972 — 51 years ago — the Volkswagen Beetle made history, per History.com:
On February 17, 1972, the 15,007,034th Volkswagen Beetle comes off the assembly line, breaking a world car production record held for more than four decades by the Ford Motor Company's iconic Model T, which was in production from 1908 to 1927.
By the way, these figures don't count the New Beetle. The last new old Beetle left Volkswagen's Puebla, Mexico factory on July 30, 2003. It was no. 21,529,464.
Neutral: Old Video Games Went So Hard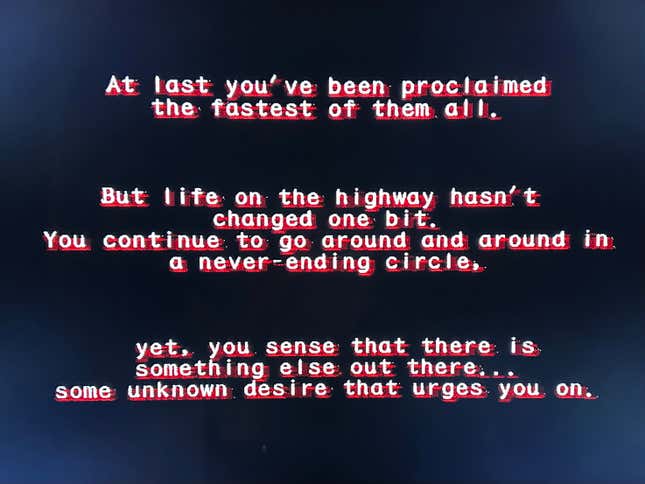 This is the message that appears on the screen after you defeat the mid-boss in Tokyo Xtreme Racer 2 for the Dreamcast, something I finally did last night after struggling for, oh, I don't know — 23 years? Figuring out how to progress in that game was a mystery to me as a kid. I've still got half of it to go, but it feels good to finally make inroads toward conquering it. Also, what a great game with such a slick vibe. It's criminal there hasn't been a new one since the Xbox 360 days.