You want to know how staggeringly forgettable the Oldsmobile Intrigue is? Listen to this: I was trying to decide between the Oldsmobile Achieva and Oldsmobile Alero for this week's Meh Car Monday. As part of the decison-making process, I remembered they used an Achieva in episodes of the X-Files. Only I was wrong: the car was an Intrigue. A car so boring I forgot it existed and mistook it for another boring-ass car.
The Oldsmobile Intrigue was Oldsmobile's mid-size sedan from 1998-2002. To look at it, you'd think Oldsmobile's designers were told to make something that looked like a larger Saturn, but without all the glitz.
Then, they carved a model out of soap, ran it under tepid tapwater for 10 minutes, and died of ennui.
G/O Media may get a commission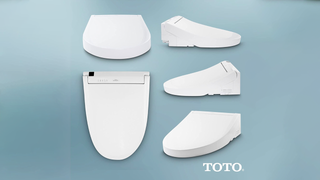 44% off
Toto Washlet Electronic Bidet Toilet Seat
The Intrigue hit the market right around when GM decided to mercy-kill Oldsmobile, and the car's most noteworthy achievement is likely that it was the first model phased out as GM held a pillow over Oldsmobile's face.

The Intrigue was designed to compete against mid-size V6 imports like the Nissan Maxima and the Toyota Camry, and, on paper, it matched the specs of the imports pretty well.
The Intrigue came with the 3.8-liter V6 making 195 horsepower for the first year, then got a bump to the dual overhead cam 3.5-liter V6 making 215 hp. In true meh car fashion, this was an acceptable output, on par with the competition, and that's about it.
Based on the advertising, it seems Oldsmobile was hoping to pitch the Intrigue as a sort of sophisticated, premium sport sedan that was sexy, dangerous, and enigmatic:
Of course, the Intrigue was precisely none of those things, and sexy jewel thieves who could teleport themselves off of trains and into moving mid-size sedans most likely opted for BMW 5-series cars, or maybe an Audi.
The Oldsmobile Intrigue is really at its best when you consider how potent and all-encompassing its forgettability is. Ask all of your car friends to name cars, any cars, and I'd bet my remaining Pontiac stock that nobody will speak the words "Oldsmobile Intrigue."
Incredibly, Oldsmobile made a Collector's Edition Final 500 version of the Intrigue, a limited run of 500 deep-red ones with goofy chrome wheels. The very idea of there being Oldsmobile Intrigue collectors at all is an act of optimism so blindly hopeful and beautiful I may have one of these cars cross-stitched into an inspirational pillow.
Amazing. A car that makes you look at an automotive sleeping pill like the Oldsmobile Achieva and wistfully wonder how Oldsmobile went wrong. Damn.