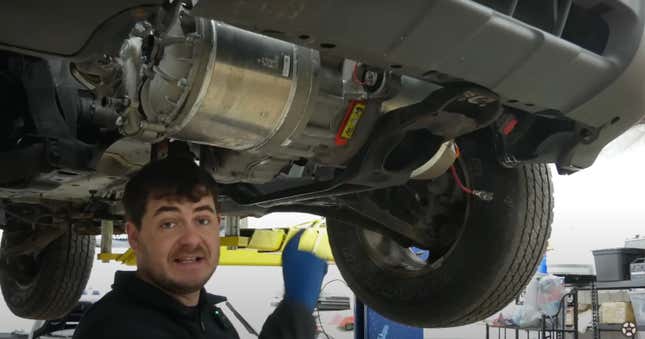 There's always a lot of interest in the idea of converting old internal combustion-powered vehicles to electric power. People talk about how old Tesla drive units or Nissan Leaf batteries are relatively affordable, and while they're technically not wrong, there's a lot more work and cost that goes into a conversion than that.
Illustrating that point beautifully is YouTuber Aging Wheels, who is swapping two Tesla large drive units into a clapped-out Ford Escape as a trial run for electrifying an old school bus. Now, twin Tesla large drive units sound like a whole lot of jam for a shitbox crossover to handle, and you're right – it's around 900 combined horsepower – but in this video, we get to see all the thought that goes into just mounting the drive units so that they won't twist the car apart.
Robert Dunn, who runs the channel, goes through a few iterations of his mounting system, and there are a few hiccups in the fabrication, but what he's able to produce with a bunch of angle iron, some sheet steel, a plasma cutter and a MIG welder is pretty impressive. It should be plenty strong to mount the units to the car, but whether the rest of the car is strong enough to not fall to pieces once that much power is in it remains to be seen.
This video details just the mounting of the drive units, which should be the relatively easy part. The next huge hurdle will be getting the battery pack assembled. Dunn plans (or planned in a previous video) to use the packs out of several Chrysler Pacifica PHEVs for the project, though due to cost, he's starting with just one.
In addition to the drive units and the pack(s), he's using components from a Coda EV and controlling everything with hardware from AEM's electric vehicle division, which is super cool, and I know I'm excited to see how all of that works.
Is Dunn a little crazy for undertaking this project? Yes. Is it ultimately likely to be helpful for others converting vehicles to electric power? Also yes, even though it's not likely that someone is going to recreate this project, getting the thinking behind the conversion process will be a big leg up for other folks, I suspect. I'm very much looking forward to seeing this build progress.