Audi's win over Peugeot in this year's 24 Hours of LeMans wasn't just another brick in Audi's wall of dominance in endurance racing. It was also the first time a LeMans-winning team has been headed by a woman.
Motivation is a hard thing to come by these days. Too often we find people taking advantage of a broken system and riding the wave of "good enough." That said, in motorsports you'll find the exact opposite: There's no shortage of people wanting to achieve more, those looking to advance their career, team, and even take their sport to new levels.
Every race paddock is filled with teams looking to find that slight advantage over the competition. Usually that focus weighs on the shoulders of drivers; it's seldom that you'll find comparisons among mechanics or race engineers. Outside of Ardian Newey, a majority of car enthusiasts probably couldn't name another race engineer. But one that's come to light in the past months is Leena Gade, the voice over the radio to this year's #2 Audi R18 TDI Le Mans winner.
It was nearly three years ago while interviewing the producers of the Audi docudrama Truth in 24 that I first learned she was even on the team. Women in racing is nothing new, but there are many more behind the scenes that normally go unnoticed. But Gade caught some attention when she became the first female race engineer to win Le Mans.
G/O Media may get a commission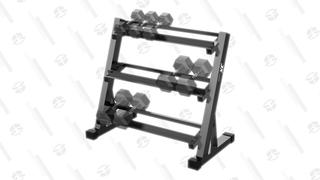 20% Off
JX Fitness Dumbbell Rack
Gains but tidy
Has a three-tier design to help store more weights more conveniently, can safely support up to 1000lbs of weight, which should be enough for most people, has a triangle base for stability, and also features anti-scratch feet which is great if you've built your own studio or workout in your garage.
I witnessed that victory from the grandstands of the La Sarthe circuit. It was a slim margin; just over 13 seconds separated the Audi with the second place Peugeot after 24 hours. It was an intense race as the #2 R18 was the last remaining of the squad of three, with Mike Rockenfeller and Allan McNish crashing out. The Audi trio of Fässler, Lotterer, and Tréluyer had the entire R18 program hanging on their shoulders for the remainder of the race, but the strategy and management of that mission belonged to Gade.
At Petit Le Mans this year, I spent an hour with Gade, both for an interview and paddock walk. Even after a few minutes of chatting with her, it became obvious she was someone that had a mission in life, she was going to be the best at what she loved to do — at any cost. Her passion brought enough motivation, Leena explained, and funny enough it all was drawn from her sister as a teenager.
It was the Senna and Prost era of Formula One growing up for the two of them that had paved both of their career paths. Pursuing an engineering degree, risking her career on a gamble in motorsports, Leena eventually landed on her feet with Audi after a short stint with A1GP and a few other privateer outfits. Her sister Teena on the other hand, took a different approach; she's now the Lead Engineer for the Mini WRC Team.