Tesla promotes Robyn Denholm as chairwoman of its board, sedans are screwing over Hyundai and Nissan, China's growth is stalling and Germany is bullying automakers into refitting diesels. All of that and more in The Morning Shift for Thursday, Nov. 7, 2018.

1st Gear: Robyn Denholm Named Chairwoman of Tesla's Board
Robyn Denholm is Tesla's new chairwoman of the board following CEO Elon Musk's spectacular goof of tweeting about taking the company private with a marijuana joke, backing away from that announcement, and then bailing on an SEC settlement after it launched an investigation, only to come back and accept it, paying more fines and being forced to give up his supreme command. He took it well, later calling himself the "nothing" of Tesla despite legal documents still referring to him as Chief Executive Officer.
Anyway, Denholm has served on Tesla's Board of Directors since 2014 alongside her role as Chair of Tesla's Audit Committee and her position as CFO and Head of Strategy at Australia's largest telecom company, Telstra. Meanwhile, I can barely text and walk at the same time.
Previously, Denholm was CFO of Juniper Networks Inc., a network product company, and she also served in financial management at Toyota. Musk credited her in the company's announcement with being significant in Tesla's strive to become profitable over the last four years, and given her background, she seems like the kind of grown-up adult who can keep the company on track in her new position.
G/O Media may get a commission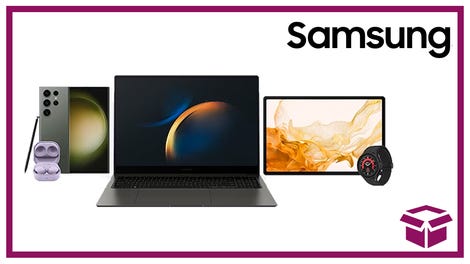 24 hour deals
Discover Samsung - Daily Deal
Denholm denied any indication that she would accept a role as chairwoman to Australian press just last month, Bloomberg reports, and it's not clear whether that was misdirection or if something changed her mind.
Some are already questioning her ability to have the necessary oversight and over-ruling of Musk, the point of the SEC removing him from the chair, as Bloomberg quotes:
"While Denholm is technically an independent member of the board, she has been part of the Musk team for some time now and that suggests she will not be up to the task of checking Musk's worst instincts," said Stephen Diamond, a professor of law at Santa Clara University who specializes in corporate governance.

[...]

The new chairman isn't likely to influence Musk's behavior, said Frank Schwope, an analyst with NordLB in Germany.

"She's from Musk's inner circle and is unlikely to put obstacles in the way of decisions," Schwope said. "This exercise, brought on by the SEC deal, was to teach Musk a lesson and this is an easy way to fulfill the requirement."
I'm not sure we should have expected Tesla to do anything else other than promote from within, and given the precedent of doing whatever he wants no matter what—even if he has to tweet about it, dammit—it's not clear if there's a single person on the planet that could gain control over Musk without the board completely removing him from the company.
2nd Gear: Hyundai-Kia Is Suffering For Sticking to Sedans
Hyundai's market share in the U.S. and China has plunged amid its company management's thirst for sedans and a dream of the company moving up market and into higher prices, Reuters reports. Oh, and it and sibling company Kia fell behind on the SUV craze, despite every indication that they're all most people want.
From Reuters:
The South Korean duo now ranks ninth and its market share in China has more than halved to 4 percent last year, from more than 10 percent at the beginning of this decade.

[...]

In the United States, the world's second-biggest auto market, Hyundai's market share fell to 4 percent last year, near a decade low.

Hyundai ran into problems in China and the United States for similar reasons: It missed shifts in consumer tastes, especially the surge in demand for SUVs, and it sought higher prices than its brand image could command, four Chinese dealers and half a dozen former and current U.S. dealers, executives and employees said.

In 2017, Hyundai's SUVs accounted for only 36 percent of its sales compared to an industry average of 63 percent in the U.S., which ain't a good look. Part of the problem is company management not really being into the whole SUV thing, via Reuters:
"One of our challenges back then, and I know it would continue to be a challenge, was that the management at (headquarters) was really big on sedans," said Ed Kim, a Hyundai U.S. product manager between 2004-2008 who is now vice president for California-based auto consultancy Auto Pacific.

Hey, at least we got the Kia Stinger and the, uh, K900 out of it.
3rd Gear: Nissan Also Hit for Liking Sedans
Hyundai isn't the only automaker with a headache right now, as Nissan missed second-quarter analyst expectations, Bloomberg reported in a wire service email sent to Jalopnik.
Nissan's operating income fell about 20 percent below analysts' predicted average, despite mostly avoiding the current tariff disputes between the U.S. and China.
Bloomberg blames the company's focus on the revamped Altima sedan this quarter, which is introduced as demand for sedans in the U.S. slumps down even further. Car sales for Nissan and Infiniti dropped 17 percent since the start of the year, but unlike Hyundai, Nissan has plenty of SUVs and crossovers to offer in the U.S. and China, with those sales growing by 2.7 percent since January.
4th Gear: On Top of That, Sales in China Are Bad Anyway
Bloomberg reports that automakers are "reeling" in the wake of a fifth straight month of sales decline in China, suggesting that the largest car market in the world may suffer its first annual sales decline in over 20 years. Here's more from Bloomberg:
Retail sales of sedans, multi-purpose vehicles and sport utility vehicles dropped 13.2 percent to 1.98 million units last month, the China Passenger Car Association said on Thursday. Sales in the first ten months of 2018 fell 2.5 percent to 18.4 million units.
China's National Development and Reform Commission claims dealership deliveries climbed three percent between 2016 and 2017 to 28.9 million, but the organization doesn't expect that number to go over 30 million this year. The likelihood that it drops below 2017's number is even higher as the trend of declining sales seems to continue this year.
Meanwhile, premium cars from Lexus and Mercedes have managed to sustain sales growth in China, and the country's government is considering a new plan to cut taxes on new vehicles to spur growth, as it's effectively done in the past, Bloomberg reports.
The rollercoaster had to drop eventually, and even then, China is comfortably the largest market regardless. But the corporate world doesn't feed on sales, it feeds on growth, so where to next?
5th Gear: VW Doesn't Want to Commit to Paying Up Yet
So far, Volkswagen has only agreed to cover 80 percent of the costs of refitting its diesel cars in response to the German governments proposal to retrofit diesel cars already on the road in an effort to cut down on emissions.
It's likely VW has committed so much in an effort to improve its image following the Dieselgate emissions-cheating scandal, though the unprecedented government plan applies to all diesel cars sold from the major German automakers.
But Germany's Manager Magazin is reporting that VW has now agreed to cover the full cost of refitting the cars, which would be a headache for the other German companies, like BMW and Mercedes, under pressure to help clean up their diesel cars, Reuters reports:
Manager magazin had reported that German carmakers Daimler and Volkswagen were prepared to fully cover the costs of the retrofits, which would reduce emissions to within permitted limits.

The VW spokesman said the report was false, adding that Volkswagen had not made such an offer. Manager magazin later updated its report to say that VW was sticking with its position that it was willing to cover 80 percent of the costs.
The disputed report comes just before the major German automakers meet with the German transport minister today over the government's concerns with tackling diesel emissions, so it's unclear if Manager Magazin's report is a sign of what's to come.
Meanwhile, BMW hasn't committed to refitting diesels in any capacity, so we'll see if they remain the holdout after the meeting.
Reverse: Ford Opts Not to Rebuild Its Rotunda, the Fifth Most Popular Tourist Attraction in the U.S.
Neutral: Is Your Sedan-Seeking Soul Smothered Yet?
Look, Hyundai, Nissan and others have tried to keep the sedan alive. Volvo is trying. Cadillac tried. It's not looking good. How much longer can we hold out hope that someone, somewhere out there wouldn't rather have a crossover or SUV?