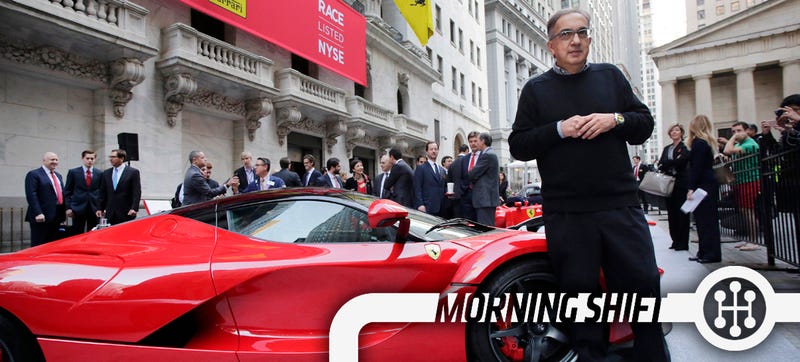 The Morning Shift
All your daily car news in one convenient place. Isn't your time more important?
Good Morning! Welcome to The Morning Shift, your roundup of the auto news you crave, all in one place every weekday morning. Here are the important stories you need to know.
1st Gear: Marchionne To Take Ferrari CEO Post Today
Ferrari is about to get a new chief executive officer, and he's a familiar face: Sergio Marchionne, the brand's current chairman and head of its parent company Fiat Chrysler. FCA spun Ferrari off into its own company, but it still owns 90 percent of the famed brand, although its new positioning as a luxury lifestyle marque hasn't been going so well.
Marchionne will replace Amadeo Felisa as CEO, reports the AP. Felisa was a top lieutenant to the former Ferrari CEO and Chairman, Luca di Montezemolo.
Sports carmaker Ferrari NV says Sergio Marchionne has been named CEO, while retaining his position as chairman.

The move was announced Monday as Ferrari posted its best first-quarter earnings ever, a 19-percent increase in net profit to 78 million euros ($89.5 million). That compares with 65 million euros in the same period last year.

Marchionne, who is also CEO of mass-market carmaker Fiat Chrysler Automobiles NV, replaces long-time CEO Amedeo Felisa, who is retiring after 26 years at Ferrari. Felisa will retain a Ferrari board seat.
This isn't that huge a change. Any time anybody had anything to say about Ferrari's strategy—from bans on EVs, SUVs and autonomous vehicles to much more—it was always Sergio.
2nd Gear: Huge Nissan Recall
Look, an airbag recall not related to Takata! But it's Takata-esque in size at Nissan, with some 3.5 million cars to be recalled over passenger-side airbags that may not deploy. Via Reuters:
The Japanese automaker said this is the fourth recall since 2013 to address problems with occupant classification systems that may fail to properly identify adult front seat passengers.

The system may improperly classify an adult front seat passenger as a child or as an empty seat, a failure that could lead to an air bag failing to deploy in the event of a crash. Nissan has reports of three injuries linked to the issue but no fatalities.

The new recall includes vehicles from the 2013-2017 model years, including some Nissan Altima, Leaf, Maxima, Murano, Pathfinder, Sentra, Rogue, NV200, NV Taxi, Infiniti JX35/QX60, and Q50. It also includes the 2015-2016 Chevrolet City Express, built for General Motors Co by Nissan.
3rd Gear: German Finmin Blasts VW Bonuses
Germany's finance minister Wolfgang Schaeuble is not happy that Volkswagen's executives are collecting bonuses in light of the hugely damaging Dieselgate scandal. Via Reuters:
"I have no sympathy for managers who first drive a large blue chip-listed company into an existence-threatening crisis and then defend their own bonuses in a public debate," Schaeuble told German weekly Frankfurter Allgemeine Sonntagszeitung.

"That shows that something is not working."

Volkswagen plans to pay the 12 current and former members of its management board 63.24 million euros ($72.44 million) for 2015, a year when Europe's largest carmaker posted a record loss due to legal and compensation costs for cheating diesel emissions tests.
4th Gear: It's Hailing Down In Texas
Automotive News has a story on how dealers are handling the massive hailstorms down in San Antonio, Dallas and other cities:
Islam Hindash, general manager of Mission Mitsubishi in San Antonio, watched helplessly as nature opened up on about 850 vehicles on his lot in mid-April, causing about $6,500 in damage per vehicle.

"As the hail was coming down and we had customers in the showroom, I thought, "Oh my God, not another disaster,'" said Hindash, who has been through two floods in recent years. "Everyone is in hail mode right now."

Hindash's solution: a hail sale that promises customers as much as $3,000 in savings, plus other bonuses. "It actually is not always bad," he said, "because people want to take advantage of the dollars."
Can they interest you in a severely hail-damaged Mirage at a very reasonable price?
5th Gear: America's Hottest Car Is...
The Subaru Outback, which at just 16 average days on the lot before a sale is the most in-demand car in the U.S. according to 24/7 Wall Street and data from Kelley Blue Book. Here's The Detroit Free Press:
Subaru is one of the hottest car brands in the country, breaking its annual U.S. sales record in 2015 for the eighth consecutive year. Sales of the brand's Outback model, which is second only to the Forrester as the most popular Subaru, increased by 22.7% through the first three months of 2016 compared to the same period in 2015.
Reverse: Chevrolet
Neutral: What To Expect From Marchionne's Ferrari?
He's always had a tight grip on the brand, and now it looks even tighter.