McLaren is building some of the most impressive performance cars on Earth right now. And if you've really got bucks, McLaren Special Operations offers "almost limitless customization" for your new machine. But sawing a 720S into a high-rent Burt Reynoldsmobile is apparently a line that shall not be crossed.

It came up at dinner with a group of journalists and some high-ranking members of McLaren's staff the basement of a restaurant that smelled like a clean lumber yard in Rome, Italy.
"So, all the 720Ss have that headlight-surround piece in carbon or black," I asked. "That's correct," I was told. Another journalist chimed in: "But MSO will make it whatever you want, right?"
The conversation then deteriorated into wacky customization concepts for the 720S. What about more accent lighting? A/T tires? Then, Mike Austin from AutoBlog had an epiphany: "Would they put T-tops on it?"
McLaren's crew erupted in laughter.
"And how about a screaming chicken on the hood?" the 720S' development manager giggled.
G/O Media may get a commission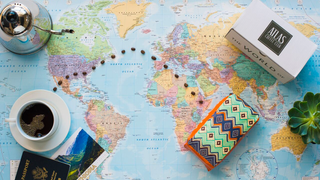 First Bag Free
Atlas Coffee Club - Free Coffee
Explore global coffee
With each bag, Atlas includes details on the coffee's tasting notes and a postcard about the region and its coffee history. And when you subscribe, you have options to tailor frequency, grind size, and roast preference of your beans, so you'll always be brewing the perfect cup.
T-tops, of course, are two removable bits of roof over the passenger and driver, most famously available on the Pontiac Trans-Am. McLaren's crew found the association hilarious, and after a brief moment of consideration, somewhat disturbing.
Hang on, though...

As you can see, part of the 720S' roof is integrated with the doors. The part that would be coming out if, indeed, the car had T-tops.
So, theoretically, that piece of door-roof could be made removable without compromising the car's structural integrity.
So bring on the T-tops already!
But McLaren's team seemed pretty serious about shutting down our dreams of making Smokey And The Supercar. Phrases like "It's not happening" and "We wouldn't put our engineers through that kind of pain" were thrown around.
If you have the means to acquire a 720S and want an open-air experience, you could wait for the inevitable convertible version to come out. But if you're a real baller, you'll offer MSO a bounty so high that they'll be compelled to eat their words and hack their precious car's doors apart while you cackle like a lunatic, slide across the smooth hood and rip a big burnout on your way to pick up a batch of moonshine.