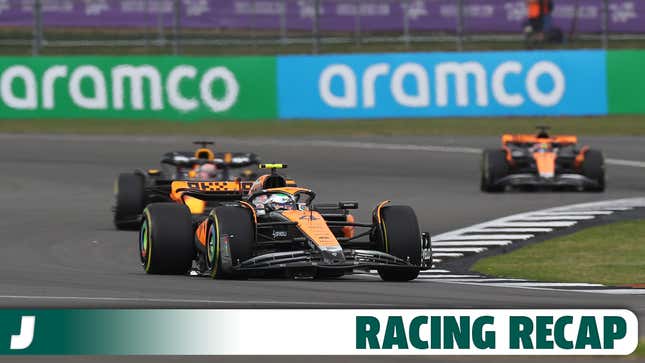 It's Monday, July 10, 2023 and this is Race Recap, your summary of last weekend's motorsport action. In Formula 1, Red Bull Racing tied the record for consecutive Grand Prix victories while McLaren ended a home podium drought. The NASCAR Cup Series had a thrilling race in Atlanta as the drivers fought for every inch on track with Mother Nature deciding which lap would be last.
McLaren Stuns Everyone With Home Podium in F1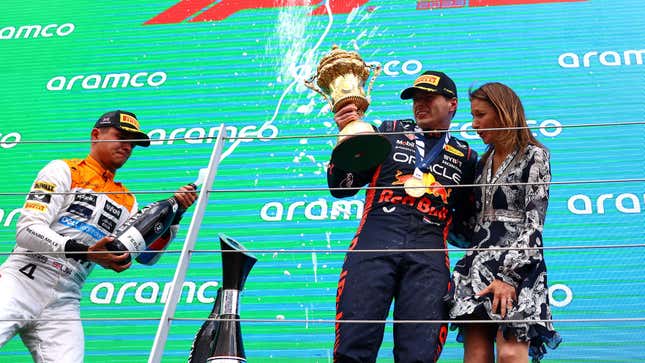 At the British Grand Prix, the upgrade package that McLaren fitted to Lando Norris' car in Austria realized its full potential. Norris and his teammate Oscar Piastri qualified second and third behind Red Bull's Max Verstappen. The papaya-and-chrome-clad duo were able to go wheel-to-wheel with the world champion at the race start.
Norris led the race for a few laps before Verstappen took the lead and never looked back. McLaren was on pace for a double podium before a safety car period caused by Kevin Magnussen's Haas catching fire. The restart gave Mercedes' Lewis Hamilton the opportunity to move up the field. He was able to get by Piastri, but not Norris, who took second place. It was the first podium for McLaren at the British Grand Prix since Hamilton finished second for the team at Silverstone in 2010.

Race Results
1. - Max Verstappen (Red Bull)
2. - Lando Norris (McLaren) - +3.798 seconds
3. - Lewis Hamilton (Mercedes) - +6.783 seconds
4. - Oscar Piastri (McLaren) - +7.776 seconds
5. - George Russell (Mercedes - 11.206 seconds
William Byron Wins Rain-Shortened Race In Atlanta
When the NASCAR Cup Series race at Atlanta Motor Speedway reached the start of the final stage, the discussion quickly shifted to when the race would end. An encroaching rainstorm meant drivers would have only 20 laps or so to make up as many positions as possible. The hot and slick track produced spectacular racing as every driver desperately tried to move to the front.
Holding the lead when the final yellow flag was thrown, Hendrick Motorsports' William Byron won the Quaker State 400. The yellow came out when there was a stack-up heading into Turn 3, when Ricky Stenhouse Jr. tagged the rear bumper of Ryan Preece and turned his car. Under the caution, rain began to fall, and the race ended after 185 of the scheduled 260 laps.
Race Results
1. - William Byron (Hendrick)
2. - Daniel Suarez (Trackhouse) - +1.015 seconds
3. - A.J. Allmendinger (Kaulig) - + 1.523 seconds
4. - Michael McDowell (Front Row) - +1.892 seconds
5. - Kyle Busch (Childress) - +2.198 seconds
Meyer Shank Takes First IMSA Win Since Controversial Rolex 24 Victory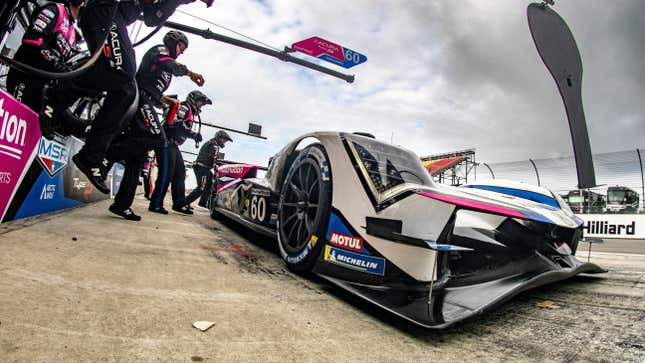 Meyer Shank Racing and driver Colin Braun threw a Hail Mary to get the No. 60 Acura ARX-06 over the finish line first at Canadian Tire Motorsports Park. Their GTP went over an hour during their final fuel stint. The strategy relied on two full-course cautions to save enough fuel. This is Meyer Shank Racing's first win since the season-opening Rolex 24 at Daytona. After Daytona, MSR was found to have manipulated tire pressure data. The team was stripped of prize money and all points in the IMSA WeatherTech Sportscar Championship but was allowed to keep the race win.
Race Results
1. - No. 60 Meyer Shank Acura
2. - No. 10 Wayne Talyor Acura - +9.157 seconds
3. - No. 25 Team RLL BMW - +18.565 seconds
4. - No. 5 JDC-Miller Porsche - +19.531 seconds
5. - No. 6 Penske Porsche - +20.640seconds
Toyota Spoils Ferrari's Monza Homecoming After Le Mans
Kamui Kobayashi, Jose Maria Lopez and Mike Conway took their Toyota GR010 Hybrid to the podium's top stop in the 6 Hours of Monza, the first FIA World Endurance Championship round since the 24 Hours of Le Mans. Driver and Team principal Kobayashi was able to outrun Antonio Fuoco behind the wheel of the No. 50 Ferrari AF Corse 499P in a final-hour duel.
Race Results
1. - No. 7 Toyota
2. - No. 50 Ferrari - +16.520 seconds
3. - No. 93 Peugeot - +1:18.179 seconds
4. - No. 5 Penske Porsche - +1 lap
5. - No. 51 Ferrari - +1 lap