McLaren is reportedly considering a new GT model with not two seats, not three seats (which happens sometimes), but four whole butt planters. Of course, those two extra seats will likely just be a glorified grocery bench, just like every other 2+2 model ever developed.

This new four-seated model would NOT be a super gross four-door car, though, which is basically what McLaren CEO Mike Flewitt reportedly informed AutoExpress about at the Shanghai Motor Show. From AutoExpress:
"It could be either Sports Series or Ultimate Series and I could see the GT further enhance its usability and further move in that direction if that vehicle could have at least a 2+2 configuration"


"We'd look at it, see if it's what the market wants and see if it would still have the driving attributes that you'd want from our cars – you would have to use a slightly longer wheelbase so you would lose a little of the agility that's there. But if what you got back was more attractive than what else is in that segment then maybe, yes."
They are looking at adding seats! With ISOFIX and everything probably, so both you and your unwitting child can feel the rush of adrenaline as you edge nearer to 200 mph.
Flewitt also reconfirmed McLaren's intention to never build a SUV, because we're supposed to hate the concept of "pure" performance brands making a lot of money on something we don't have to buy. He brought that up while saying he would never rule out a 2+2. Of course there would have to be a business case, Flewitt says. That's smart thinking.
G/O Media may get a commission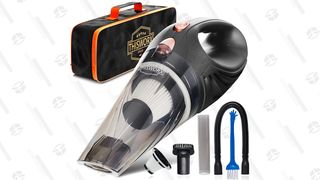 Save 50%
ThisWorx Car Vacuum Cleaner
What will you actually put in your new McLaren's conceptual back seat? I might put a cooler back there.