I have a particular soft spot for the Mazda 323 GTX — it was a WRX before there was a WRX, a little late '80s turbo homologation special that did reasonably well in Group A rally. I have an even softer spot for the completely pointless Ford version.
This is the Ford Laser TX3 Turbo 4WD.
Let me start by saying that back in the '70s Ford bought a good bit of Mazda, and their ties grew closer through the 1980s and into the 1990s, before things started to temper and eventually split apart a few years ago.
The partnership meant that Ford got Mazda know how and Mazda got production capacity building cars with Ford badges slapped on 'em. Mazda flirted with bankruptcy a few times during this whole period, so the partnership is sort of understandable.
G/O Media may get a commission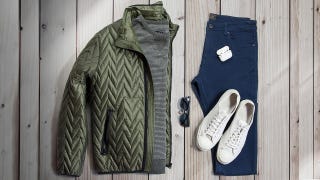 60% off
Jachs NY Fall Sale 60% Off
The whole deal produced some interesting vehicles, like the Mazda B2000 that was a Ford Courier, the Mazda Tribute that was a Ford Escape, and the Ford Probe that was supposed to be the Mustang but was really just a Mazda MX-6.
The Laser was an Australian-market version of Mazda's bread-and-butter 323. I'm not sure why they bothered to sell a rebadged version of the 323 in Australia. The Mazda3 is currently the country's best-selling car, and I'm not sure how much good a Ford badge helped anyone.
In any case, the Laser was the 323, with slightly different body panels. We got it as the Mercury Tracer here in the US. When Mazda made a 323 GTX (pictured above in the '88 RAC Rally), they also made a Laser version. It was called the TX3 Turbo 4WD. Not exactly imaginative, but still cool.
Needless to say, I desperately want one.
Photo Credits: Decypher (Laser topshot), Ford of Australia via FordLaser.com (scrunched brochure image) Getty (rally pic)