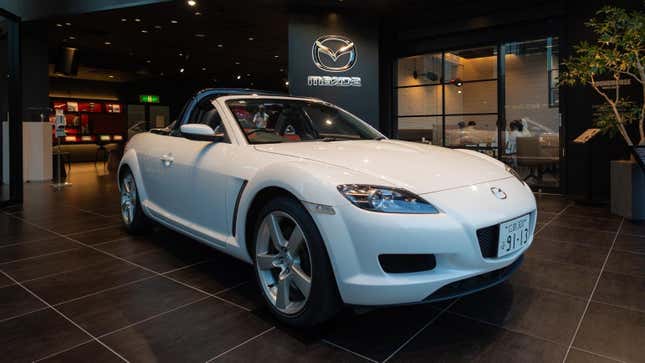 The Mazda RX-8 is weird, as far as cars go. It has an engine that spins and also is likely to slowly dismantle itself if you don't watch it carefully; rear half-doors that are also rear-hinged; and well, have you seen it? It's just a strangely proportioned car: long and narrow and bulbous, and certainly not helped by late-aughts/early 2010s Mazda Maw following its mid-cycle refresh. Unfortunately, those latter examples also happen to be the most reliable ones. You can't have it all.
However, Mazda has in its possession an RX-8 that's even weirder than the ordinarily weird ones, because it lacks a roof. See, the automaker may never have series-produced a convertible RX-8, but it explored the concept with two promotional vehicles long after the car left production, for the baseball club it naturally owns. One of those vehicles is currently on display at Mazda Brand Space Osaka until the end of August, if you happen to be in town.
See, seven years ago the Hiroshima Toyo Carp — that's Mazda's hometown team — reached the Japan Series, the final round of the Nippon Professional Baseball league's playoffs. The city held a parade to commemorate the occasion, as Car and Driver explained at the time, and this RX-8 was in it. The Carp's berth was a big deal, because the team hadn't made it to the Japan Series since 1991, nor won a title since 1984.
Unfortunately, 2016 didn't end the drought for Hiroshima, despite plenty of help on the mound from ever-reliable former Yankee Hiroki Kuroda in Game 3. (Kuroda pitched to an up-and-comer named Shohei Ohtani in that game; wonder how that kid's doing now.)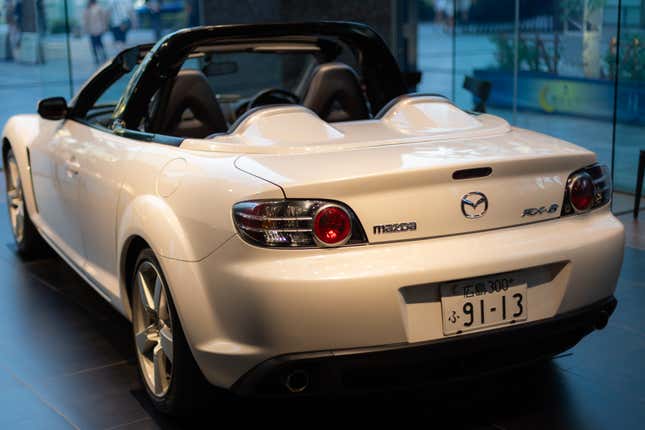 Anyway, back to cars. Of course Mazda had to reinforce the RX-8's chassis to account for the removal of the roof and subsequent loss of rigidity, and part of that reinforcement came by means of that big honking rollbar where the B-pillar would normally stand. This hoop also gave the Carp's talent something to lean on and hold onto while standing and waving, which they deserved. Had to be in tip-top shape to stick it to those Nippon-Ham Fighters.
Sure, the hoop was a little awkward. But then the RX-8 was already a pretty awkward thing, and if you do your best to scan past it, I reckon Mazda's two-plus-two made a fine open-air sports car. The Porsche Speedster-esque deck behind the rear seat headrests did some heavy lifting here, but we appreciate its contribution nonetheless.
In addition to those two RX-8s, Mazda also chopped two Mazda 6s — or Atenzas as they're known back home — for the occasion. Ironically, I have no evidence of Miatas on the premises on that particular day. Say what you want about the company's little drop-top experiment here, but remember: it could've gone so much worse.