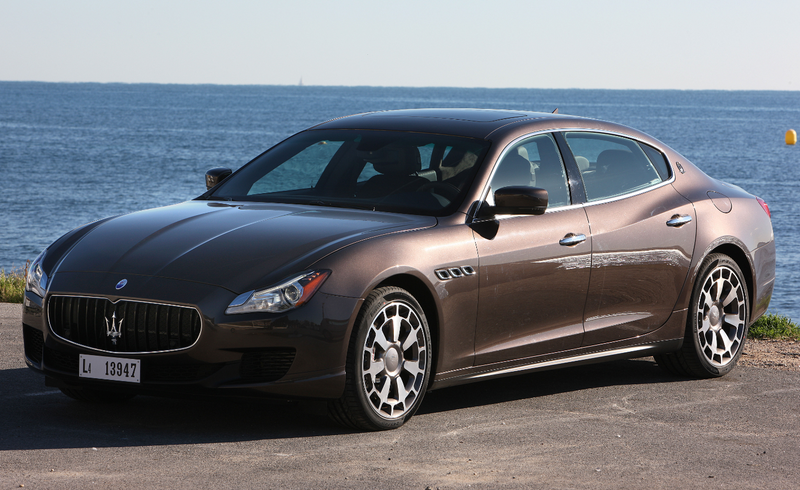 The Maserati Quattroporte is the pornstar of the luxury sedan world. What do you need to know before you buy a Maserati Quattroporte? Don't worry, we'll tell you everything right here in our Buyer's Guide.
The sound of Antonio Vivaldi's Spring from his series of concertos The Four Seasons rings in the air as a camera slowly pans over the Quattroporte's beautiful contours. The luscious leather trim, the sumptuous stitched dash, that gorgeous italian shape. It's pure pornography.
Yes, the Quattroporte is the sex-kitten in a class of refined, reserved luxury. That exhaust note, that howling optional V8, that aggressive front end penned by ex-Pininfarina produc—err, designer, Lorenzo Ramaciotti.
Maserati's Quattroporte is for those who think the German offerings like the A8, S-Class and 7-series are a bit too "German." Well-engineered, sure, but lacking in a certain unquantifiable something. The soul, the pizzazz, the fire that's only found in cars from the boot-shaped country jotting into the Mediterranean.
What's New About The 2015 Maserati Quattroporte
The Quattroporte has been around since the early 1960s, so it's already on its sixth generation. That new generation car, which debuted at the 2013 North American International Auto Show as a 2014 model, came on a completely new platform than its predecessor with a longer wheelbase, an all-new twin-turbo V6, and the first all-wheel drive system in Quattroporte history.
This year's 2015 model adds a few new interior and exterior colors and some new wheel options, but is otherwise unchanged from 2014.
Which One We'd Buy
The Quattroporte comes in three trims: S, S Q4 and GTS. The S is the turbo V6 model, which puts out 404 horsepower at 5,500 rpm and 405 lb-ft of torque at 1,750 revs. The S Q4 adds all wheel drive.
But the one we'd buy is the twin-turbo V8-powered GTS, and not just for the 523 horsepower V8 that accelerates to 60 in 4.6 seconds and reaches a top speed of 190 mph. No, the V8 is the one to get because it's the engine that best fits the Quattroporte's character, a character forged by the V8-powered Quattroportes that have graced this earth since 1963.
The 3.8-liter twin-turbo V8 revs to 6,800 rpm and howls the most beautiful symphony from the trapezoidal exhaust tips as the car's pneumatically-controlled exhaust valves sit wide open.
The GTS comes with a gorgeous Italian leather-trimmed interior with wood trim, an 8.4-inch touchscreen display, 10-speaker Harman Kardon sound system, adaptive damping, big six-piston front brake calipers, heated rear bench seat, adaptive bi-xenon headlamps, power adjustable foot pedals, sunroof, dual-zone climate control and gorgeous 20-inch wheels.
All in, we'd be looking at $141,500 for our roaring V8-powered Italian bombshell.
[Build Your Own Quattroporte S] [Build Your Own Quattroporte S Q4] [Build Your Own Quattroporte GTS]
Important Facts At A Glance:
MSRP: $99,000 - $141,500 Top Speed: 190 MPH [3.8L]
Acceleration: ~4.6s to 60 [3.8L all-wheel drive]
MPG: 16 city/ 23 hwy / 18 combined [3.0L]
Engines: 3.8L twin-turbo V8, 3.0L twin-turbo V6
Max Horsepower/Torque: 523 hp/479 lb-ft [S8]
Curb Weight: ~4,100-4,233 pounds IIHS Rating: NA
Transmissions: 8-speed automatic
Drivetrain Layout: Front engine, RWD/AWD
Photo credit: Maserati