The best Super Bowl ads are the surprising ones these days. Not surprisingly bad or the surprisingly long-lasting, but the ones that aren't teased or too buzzy ahead of time, just the ones we least expect. This year, Maserati (of all companies) was so close to hitting the mark perfectly with the Maserati Ghibli it's worth discussing how they did it.
"Strike" was a good ad. The pitch for steelworker images and Quvenzhane Wallis' chilling overtone about "lumbering giants" may have sounded odd for the Ghibli, but it makes sense. With the backing of Chrysler's post-bankruptcy honey pot and a solid product game plan from the Fiat side, they're in a position to strike – and not go up in flames like they did in the 1980s Biturbo days.
The Ghibli was always going to be an important car for a brand that never really hit the big time, despite a glamorous heritage. Maserati had a great 2013, but that's not saying much. Before then, their sales totals languished in the "other" column of big charts. That's because they're making cars that more luxury buyers can afford.
So why didn't they tell people that at the Super Bowl? Were they expecting everyone to Google "Maserati Ghibli" and land on the company website (which crashed)? Instead, people took to Twitter and bitched and moaned about how expensive this car was in their heads:
G/O Media may get a commission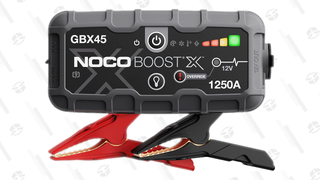 13% Off
Noco Boost X GBX75 Jump Starter
The Ghibli 3.0-liter twin-turbo V6 is $66,900. It's about $3,000 more than a base BMW 550i. It's more than $10,000 less than a Porsche Panamera with a V6 and 35 fewer horsepower.
As a reminder, Maserati is going to be Fiat Chrysler's Porsche. Luxury sports cars with a narrow product scope. Yes, there will be Maserati diesels, but that's not such a bad thing these days and it's the cost of doing business in any segment in Europe. And while Porsche becomes more common in the luxury arena with cars like the Macan and endless Panamera variants in the hopes of hitting 200,000 cars per year, a spot has opened up in the market for a more niche automaker.
This is also where Jaguar wanted to land. And were they ever caught off guard by Maserati.
At the end of the Ford years and when the dream of ever coming near the German luxury brands in terms of sales died, Jaguar was recast as a niche luxury player. They'd make pretty cars, fast cars and they'd be desirable because they weren't common.
During a presentation last month in conjunction with the Detroit Auto Show, Jag's execs were glowing because of their British Villains. They had every right to. It was a slick ad with stunning cars and enhancing that rule-breaker image they've found comfortable (FULL DISCLOSURE, they've bukkake'd Gawker sites with these ads as well). The F-Type Coupe is also supposed to be around $65,000.
I can see how some people thought the Maserati spot was too "Chrysler." It's Chrysler's own damn fault, turning out passionate, memorable, rousing spots that have little to do with product and everything to do with emotions. Jaguar's ad looked more finished. I hate to say a marketing word, but was more "premium." But hardly moving.
Imagine if "Strike" was the ad for the 2014 Jeep Cherokee or the 2015 Chrysler 200, both hugely important launches for Fiat Chrysler. The theme sort of works, two nameplates so underserved by aged machines that are totally new now.
But "Strike" works best for Maserati. The company has cache rivaled only by hypercar makers and ultra-luxury like Bentley and Rolls-Royce. I'm not about to make the case that a $67,000 Italian car is a mainstream car, but few complain about full-size domestic SUVs and pickups that cost the same money.
In any case, Chrysler advertised two much more mainstream cars during the Super Bowl after the Ghibli and they're no slouches. Maserati's first Super Bowl ad deserves to be remembered because it was a beautiful, breathtaking surprise not watered down by drawn-out teasers or unnatural celebrity cameos. And at the end of 90 seconds, it left you asking, "What was that?"
That's how you sell a car.
Photo: Maserati