Yesterday, we covered the ongoing saga of a GT-R owner who had complaints about work done by Forged Performance. The complaint thread had gone viral across many car forums, and now Forged seems to be lashing out at some of their detractors.
GT-R Life user ATL_GT-R posted this email he received from Sharif at Forged, regarding the Forged-sponsored Top Dawg Challenge, held at the Hendersonville, NC airstrip. The event is planned in conjunction with a larger ZDayz series of Z-car related events:
I wanted to let you know that your airstrip entry fee will be refunded today, and your entry will be canceled. I am sure you can appreciate, that we can't allow people that make personal attacks or threats against me or my company to attend this event.

Sharif
ATL_GT-R then reacts to the email in his post:
A couple issues I have here:

- I work a lot and to take days off of work is a big deal. I did that in order to participate in this event.

- Because I was excited to run my car I had numerous family members and friends planning to come meet me at the event (from different states), all of whom had to make various sacrifices to do so. Now I have to tell them to change their plans last minute.

- I have a block of hotel rooms booked which happen not to be cancel-able less than 24 hours out. Do you want to refund me for those too?

- I purchased fuel and tires specifically for this event. They will get used else where but annoying none-the-less.

Is this not an official zDayz event? If so, I was not aware that a sponsor was able to dictate who can participate. Not sure this reflects so well on zDayz or their chosen affiliations, generally.

In any case since when did racing not have its fair share of conflicts . . . that is one of the elements that makes it fun! Is Forged worried about the embarrassment of a Topspeed car bettering them in yet another way/event? Or is this really just personal which, in my view, is an even less professional practice.

Thanks for the timely refund. Something tells me you will regret not keeping the $125.
G/O Media may get a commission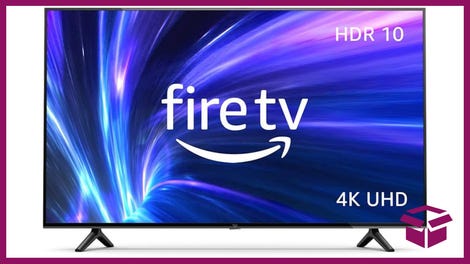 42% Off
Amazon Fire TV 50" 4K Smart TV
Regarding whether or not the airstrip event is an "official" ZDayz event, Sharif responds:
... this is not an official ZDAYZ event. This is a casual and friendly event that we've been doing for the past 5 years. Although, many of your comments have been cleaned up, when a member of this community tells us that they hope we are "f'ing" this and "f'ing" that, we have to draw the line at that point. There were a lot of people that voiced their opinions without resorting to threats and profanity.
So it looks like technically, Sharif and Forged can certainly ban whomever they feel like. But as far as helping their case in the overarching conflict or maintaining a good reputation and stance within the greater GT-R/Nissan tuning community, this seems like possibly the worst course of action the company can take.
Punishing people who say things you don't like pretty much never works to help your reputation. Once you start listing people who've used this method, you've got a list with Pol Pot and Hitler's name on it, and that should be enough of a wake-up call to anybody.
UPDATE: We just received an email from Sharif of Forged:
"Hey everyone, I overeacted in this situation. I left a voicemail for Andrew...we are going to reinstate his registration and as I mentioned, everyone is welcome to attend. Friends, customers, competitors..everyone. If you aren't coming to run a car, spectators are also welcome. "