In 1974, Ed LaPointe sold his cherished 1955 Pontiac. 35 years later, he was reunited with it. This is his story.
It was a 1955 Pontiac Chieftan 860, a model that can be classified as basic transportation from the Arrowhead division of GM. The car currently sports about 59,000 miles, but when Ed LaPointe first bought the car, it had about ½ that mileage. The first owner was Bertha Hansen, who drove the car until she turned 93 years old. She was an active woman who traveled to Florida every winter, and back to Massachusetts in the Spring. The car sat at a local garage through the winter, on blocks, fully winterized in suspended animation. One winter, the car never came out of hibernation because Bertha had passed on, and the garage was holding it for the estate.
Ed was an accountant by trade, and needed a car to use so that he could go between clients, and he asked his Uncle about the Pontiac. You see, his Uncle owned the garage where the Pontiac slept. And so Ed was soon the owner of a low mileage 1955 Pontiac in 1972, and he used it as a car was intended to be used. From all indications he loved that car, with meticulous servicing to keep the old girl running like new. But fate intervened, and he had to let her go. It was after he accepted an offer from the Bank of New England to work overseas that the Pontiac Chieftan was sold to a chap with the only desire for the car was to see how much profit he could make from its resale.
It was about this time in 1974 that Steve Sicklick, a successful automotive entrepreneur, saw it. According to Steve, he wanted to find a classic car that he grew up with. His family has a very long Automoile Dealership background, with his Father and Grandfather in the business, along with Aunts and Uncles on both sides of the family. They ran dealerships that sold Pierce Arrow, Packard, Willys, Reo, along with more modern nameplates like Dodge, Plymouth, Hudson, and Chevrolet. He was looking for a mid-fifties Hudson or Chevy, but after stopping by the Larz Anderson Auto Museum in Brookline Massachusetts, he had an Epiphany. These were cars that he once remembered growing up with his family, and he knew he had to have one, and that 1955 Pontiac Chieftan was the one tugging at his heart strings the most.
The Pontiac shared a great deal with its Chevrolet cousin, including the basic body structure (By Fisher), much of the substructure, as well as the suspension pieces. But this basic Pontiac also came with the 287 Cubic Inch V-8, in which 1955 was the debut year of the new V-8 configuration for the division. It was also equipped with a Hydramatic Automatic Transmission, and an AM radio. Once in Steve's possession he started to add accessories that were available at dealerships at the time this car was new. One of the most unusual items was the lighted Indian Head hood ornament, which is unusual to say the least.
G/O Media may get a commission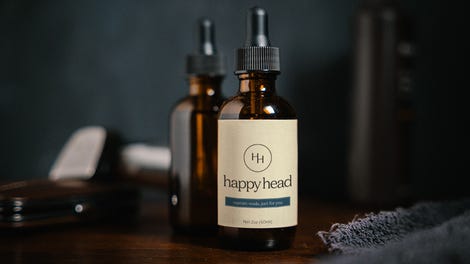 When Steve bought the little Pontiac, a great deal of information came with it, including its service history, and ownership records. It was about two years ago that the renunion of the car with its second owner was taking shape. Through a Zabasearch, Steve was able to find Ed LaPointe, who returned from his overseas assignment back to Massachusetts. Through a series of calls and extensive e-mails, they arranged to meet in December of last year.
On the day of the meeting, Steve was being particularly picky about the appearance of the Chieftan, checking air pressure of the Bias Ply Tires, making sure the windows were spotless, and that the car was fully warmed up when meeting with its previous caretaker. Steve revealed to me that when he drove up to his home, Ed was already there at the front door. This is where Steve honked the horn, waved, and proceeded to drive by the house! Ed couldn't contain himself, running after the cherished Pontiac like a school kid at recess. Steve then turned around, and Ed just started taking pictures. According to Steve, Ed was giddy, walking around the car, taking it the interior, marveling at how the car looked exactly the same when he once owned her.
At this point, Steve gave the keys to Ed to drive the car he once cherished. Ed looked at the red and very worn ignition key and said "I remember getting this key made". After a quick drive, they proceeded to a dealership in Simsbury Connecticut that had a vintage Pontiac Sign still on the building to photograph the car under it. A few more pictures, and it was time to call it a day with a great dinner and a vintage bottle of wine.
However, the question I have for you is this — how would you react if you sold an object of desire because of circumstances beyond your control, only to be reunited with it years later? I would wager that you would react the same way Ed LaPointe did when he saw his old 1955 Pontiac Chieftan.
This piece was written and submitted by a Jalopnik reader and may not express views held by Jalopnik or its staff. But maybe they will become our views. It all depends on whether or not this person wins by whit of your eyeballs in our reality show, "Who Wants to be America's Next Top Car Blogger?"