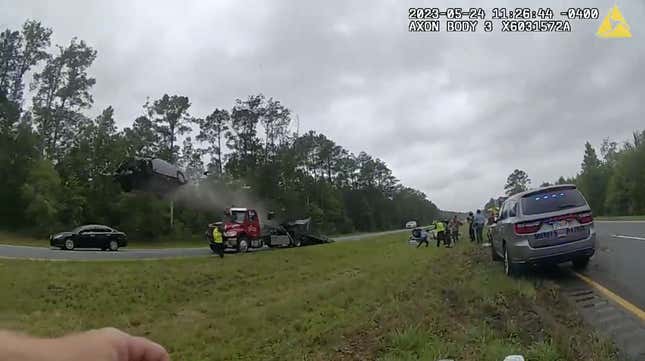 We've all seen it in the movies and on TV shows so many times, it barely even registers anymore: The Good Guy is being chased by the Bad Guys, and after some brilliant driving (or riding) by the Good Guy, one of the Bad Guys ends up driving up the back of a flatbed, launching their car into the air. It's so common, that it's basically a cliché at this point. But it doesn't happen in real life, right? Wrong.
Atlanta's WSB-TV obtained police bodycam footage of a wreck that took place in Lowndes County, GA about a week ago that shows what looks like an action movie come to life. While officers were conducting an arrest on the side of GA Highway 34, a driver that presumably wasn't paying attention managed to hit a flatbed tow truck at full speed, launching it into the air.
According to the Georgia State Patrol, the car flew about 120 feet through the air before it landed, hitting another car in the back. It then reportedly slid another 23 feet before coming to a stop. Somehow, the driver actually survived the crash, although they were taken to the hospital with serious injuries. A Lowndes County sheriff's deputy was also hit with some flying debris and taken to the hospital, but no other injuries have been reported. Hopefully, both recover quickly.
It's not clear what model of car was involved in the crash, but the fact that the driver survived is a clear testament to the safety advances that we have in modern cars. They may not build them like they used to, but that's a good thing. Could you imagine someone surviving that crash in a 1970s muscle car? It just wouldn't happen.
It's also a great reminder that driving a cheap, old car into the ground isn't necessarily the best idea. Sure, you may save some money in the short term, but if the unthinkable happens, your loved ones would probably much rather still have you around than get to divvy up an extra $20,000 from your estate. And we're not just talking about classics. Need we remind you of the infamous Nissan Versa vs Nissan Tsuru crash test video?
Annoyingly, WSB doesn't appear to have uploaded the footage to YouTube yet, so you'll either have to make do with watching this low-quality video of the video or head over to the article to watch the much higher-quality version that WSB has in its article on the wreck.