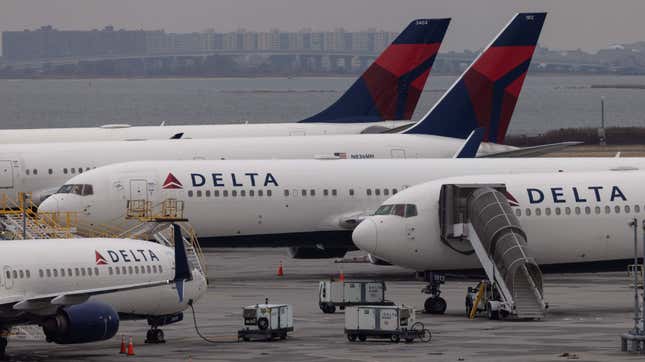 Hours away from a full rollout of the fifth-generation of cellular networks, ten of the largest airline operators in the U.S. submitted a letter to the Feds begging for another delay in the rollout, and promising total chaos in both shipping and passenger travel should 5G be implemented near airports.
The Most Frustrating Features In Cars
Updated Tuesday, January 18, 2022 3:22 p.m. EST: Verizon Wireless and AT&T have announced they will change 5G rollout plans in the U.S, though the two cell phone carriers are very much not stoked about it.
The major worry is that 5G might interfere with planes delicate instruments, which are especially crucial in low visibility or bad weather. To play it safe, airlines might start canceling flights based on if 5G could affect the safety of the aircraft. United Airlines announced Monday that 15,000 of its flights, 1.25 million passengers and tons of cargo could be jammed up annually due to 5G safety concerns, according to Reuters. And that's just one airline.
AT&T and Verizon, which own nearly all of the 5G bandwidth, declined to comment but did note that 5G has been rolled out in 40 countries with no interference to airports or airplanes. Airlines in the U.S. are requesting the service be restricted within 2 miles of an airport.
The letter was signed by chief executives of American Airlines, Delta Air Lines, United Airlines, Southwest Airlines, Alaska Air, Atlas Air, JetBlue Airways as well as the shipping companies UPS and FedEx, which maintain large fleets of aircraft. It was addressed to White House National Economic Council director Brian Deese, Transportation Secretary Pete Buttigieg, FAA Administrator Steve Dickson and Federal Communications Commission (FCC) Chairwoman Jessica Rosenworcel. The companies warned of major delays, cancelations, expensive widebody aircraft being rendered useless, basically mass hysteria. From Reuters:
The airlines warned the new C-Band 5G service set to begin on Wednesday could render a significant number of widebody aircraft unusable, "could potentially strand tens of thousands of Americans overseas" and cause "chaos" for U.S. flights.

"Unless our major hubs are cleared to fly, the vast majority of the traveling and shipping public will essentially be grounded," wrote the chief executives of American Airlines (AAL.O), Delta Air Lines (DAL.N), United Airlines , Southwest Airlines (LUV.N) and others in a letter first reported by Reuters.

The Federal Aviation Administration (FAA) has warned that potential interference could affect sensitive airplane instruments such as altimeters and significantly hamper low-visibility operations.

"This means that on a day like yesterday, more than 1,100 flights and 100,000 passengers would be subjected to cancellations, diversions or delays," the letter cautioned.

Airlines late on Monday were considering whether to begin canceling some international flights that are scheduled to arrive in the United States on Wednesday.

"With the proposed restrictions at selected airports, the transportation industry is preparing for some service disruption. We are optimistic that we can work across industries and with government to finalize solutions that safely mitigate as many schedule impacts as possible," plane maker Boeing (BA.N) said on Monday.

This will likely assuage conspiratorial fears over the new technology, I'm sure. But what even is 5G? I'll let the smarties at MIT explain it:

5G is the fifth-generation cellular network, as formally defined by global standards agencies. New networks have emerged roughly every 10 years since 1980, when 1G came on the scene with large cellphones that only made phone calls. Later, 2G introduced messaging, 3G brought access to the internet, and 4G, which emerged around 2009, brought a leap in data download speeds, allowing users to do things like stream movies on mobile devices.

The official definition of 5G specifies higher speeds and lower latency — the lag time between when a device asks for information and when it receives it, Médard explained. The network will use higher-frequency radio waves in addition to the range of frequencies already used, and will work with smaller, more closely distributed wireless access points instead of large, dispersed cell towers.

5G is also expected to include a suite of hybrid technologies that will facilitate seamless transitions between different Wi-Fi networks or from cellular networks to Wi-Fi, and allow networks to more easily take advantage of unused extra bandwidth.

So, much more enjoyable cell phone service for all of us, but yet another thing that might make flying and shipping a total hassle. It's not as if taking a trip during the pandemic has been a breeze before 5G rollout. Staff shortages due to Omicron infections continue to lead to the cancelation of thousands of flights. Even if you do manage to get a flight, you might be dealing with all sorts of shenanigans, as incidents of unruly passengers shot up from a few hundred incidents a year pre-pandemic to thousands.