This smartphone dash mount is the low-profile model from iOttie, the manufacturer of your favorite model. [iOttie Easy Flex 2 Windshield Dashboard Car/Desk Mount Holder, $11]
---
If you've never tried Spotify Premium before, they're offering three months for just $1 right now. To reiterate, this is only for accounts that have never had Premium before. [3 Months of Spotify Premium, $1 for new accounts]
---
G/O Media may get a commission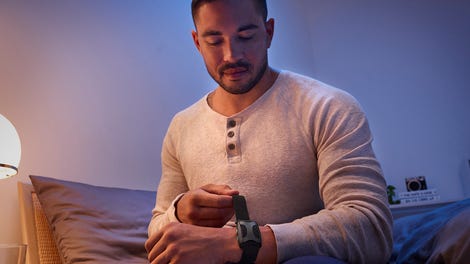 This fuel system tune-up kit requires a "'medium' to 'heavy' do-it-yourselfer" to use at home, but if that doesn't scare you off, Amazon has it for only $13 today after a $7 coupon (clip on page) and a $10 rebate. That's the lowest price ever by $17. [3M Fuel System Tune-Up Kit, $13 after $7 coupon and $10 rebate]
---
Winter is coming. [10% off Coverking Windshield Snow Covers]
---
Whether you're cooking on the grill or in the oven, this wireless meat thermometer will alert you as soon as your meal reaches the desired temperature. It's Amazon's #1 selling meat thermometer, and enjoys a 4.1 star review average to boot.
The probe sells for $60 consistently, but a promo code today knocks $17 off the price. Even if you don't need it yourself, it makes a great gift. [Ivation Long Range Wireless Dual Probe Digital Thermometer Set, $43 with code CCTFZGF9]
Note: Must choose DBROTH as the seller.
---
If there are any areas in your home where wi-fi just won't reach, a powerline kit will get you a working ethernet jack without running any cabling. [ TP-LINK TL-PA4010KIT AV500 Nano Powerline Adapter Starter Kit, up to 500Mbps, $30]
---
The dentist gives you brushing advice twice per year (hopefully), but with this discounted Oral-B toothbrush, your smartphone can give you feedback twice per day (again, hopefully).
The Oral-B Pro 5000 toothbrush is the first of its kind to talk to your iPhone or Android device over Bluetooth to track your brushing stats, and offer live feedback. Oral-B's companion app will tell you where you should focus your brushing, graph your habits over time, and even warn you in real time when you're brushing too hard. And as for its cleaning capabilities, it's a step-up model from the Oral-B SmartSeries 4000, which you voted as your favorite.
Today only, you can order the brush for $80, which is $40 less than its previous low price, and over $50 off its usual going rate. It also makes a great (if slightly passive aggressive) gift. This is an Amazon Gold Box deal, meaning the price is only available today, or until sold out. [ Oral-B Pro 5000 SmartSeries with Bluetooth, $80]
If you don't need the fancy Bluetooth features, there are several other solid toothbrush deals alive today.
---
Who doesn't love microfiber towels, especially when they're this cheap? [ Zwipes Microfiber Cleaning Cloths (36-Pack), $14]
---
This mechanics tool set breaks the rare $.50/tool barrier today, so snap it up for yourself, or as a gift. [ Craftsman 118-Pc Mechanic's Tool Set, $50]
Update: Need more tools? Here's 230 pieces for $90.
---
USB battery packs are my favorite generic holiday gift. They're useful to literally everyone, they offer a tremendous amount of utility for a modest amount of money, and it still seems like most non-nerds aren't fully aware that they exist. If you have anyone on your shopping list that could use one, here's a great deal.
For a limited time, you can get a 13,000mAh Anker E4 for just $24 with code ANKERCM1, matching a Black Friday lightning deal. That's enough juice to charge up your average smartphone 4-5 times over, and is great for long flights, camping trips, power outages, and general battery life paranoia. Anker battery packs are among the most popular items we list, and they all carry stellar review averages. [Anker 2nd Gen Astro E4 13000mAh External Battery,$24 with code ANKERCM1]
---
Want your deals the old fashioned way? Sign up for this IFTTT recipe to get a digest of all our posts sent to your email every afternoon.
---
Inventory
---
Auto
Tools
Home
Kitchen
Fitness
Camping & Outdoors
Kids
Apparel
Bonus
---
Media
---
Movies & TV
Books & Magazines
Apps
Music
Gaming
---
Tech
---
Storage
Headphones
Home Theater
---
We work together with you to find the best products and the best deals on them, click here to learn more. We operate independently of Editorial and Advertising, and if you take advantage of an item we cover, we may get a small share of the sale. We want your feedback.