For the 2011 season, a Malaysian team in black and gold livery named Lotus will be joined by a Malaysian team in black and gold livery named Lotus. Don't panic, we've got the org chart.
This morning, Lotus Group has announced that they have acquired Renault F1, which will become Lotus Renault GP for the 2011 Formula One season, racing in Team Lotus's black and gold livery from the 1970's. Those of you following Formula One news will recall that Lotus Racing, one of the new teams which competed in the 2010 season, will also be racing in black and gold and will be renamed Team Lotus for 2011. Before you resort to the services of the Team Lotus crack suicide squad please peruse this chart:
It's a mess, isn't it? Here's the who's who.
Lotus Group
G/O Media may get a commission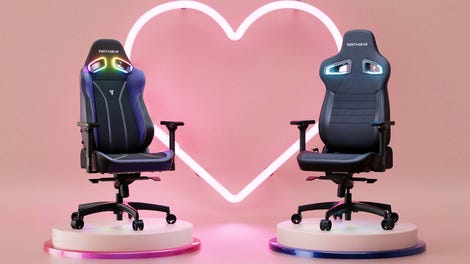 Up to $150 off
Vertagear Gaming Chairs
Colin Chapman's original car company, founded as Lotus Engineering in 1952. This was the company that made Lotus's sports cars. It was reorganized many times into subsidiaries such as Lotus Cars and Lotus Technology. In 1986, four years after Chapman's death, the company was sold to General Motors. In 1993, GM sold the company to the Italian businessman Romano Artioli (the current Lotus Elise is named after Artioli's daughter). Three years later, Artioli sold the company to Proton, a Malaysian car company partly owned by the Malaysian government.
Team Lotus (1954–1994)
Colin Chapman's Formula One team, spun off from the sports car company in 1954. This was the Lotus that won seven constructors' championships between 1963 and 1978 and employed drivers like Jimmy Clark, Graham Hill, Mario Andretti, and Ayrton Senna. The team went bankrupt in 1994 and left Formula One without a successor. They were not included in Romano Artioli's 1996 sale of Lotus to Proton. The name Team Lotus was purchased by David Hunt, the younger brother of Formula One world champion and master libertine James Hunt.
Renault F1 (1977–1985)
Renault's original factory team. They were the team who introduced turbocharged engines to Formula One and gave future four-time world champion Alain Prost his big break. Renault pulled out of Formula One after the 1985 season without a successor but remains as an engine supplier to this day.
Toleman, Benetton, and the new Renault F1
Toleman was a British constructor sponsored by a variety of Italian companies, including the fashion company Benetton. They were the team who signed Ayrton Senna in 1984. A year later, Toleman was acquired by Benetton, who put one of
their managers in charge: Flavio Briatore. In 1991, Benetton signed Michael Schumacher as driver and Ross Brawn as technical director. Schumacher won his first two drivers' titles with Benetton. In 1996, he and Brawn left for Ferrari. In 2000, the team was acquired by Renault and became Renault's second factory team. Briatore was hired again as team principal and he hired a young Fernando Alonso in 2003, who won two world titles for the team. In 2009, Briatore was fired after the Singapore race-fixing scandal and Renault sold the majority of its share in the team to Genii Capital, a Luxembourg-based investment firm. In December 2010, the Lotus Group—owned since 1996 by Proton, the Malaysian car company—became a major equity partner of Genii Capital and announced that the team will race as Lotus Renault GP in the 2011 season, using a livery based on Team Lotus's black and gold.
Lotus Racing and the new Team Lotus
Malaysian airline magnate Tony Fernandes's Formula One team, which entered Formula One in 2010 and has nothing to do with the original Team Lotus. Fernandes teamed up with British F3 team Litespeed to build the cars and purchased the Lotus name from David Hunt. Fernandes was also supported by the Chapman family: Clive Champan, Colin's son, gave Fernandes the black cap his father used to toss into the air on Team Lotus victories. While the Lotus Group frowned on Fernandes's use of the name—Fernades has nothing to do with the Lotus Group—their owner Proton was an investor in Lotus Racing to boost Malaysian motorsport. For 2011, Fernandes worked out a deal with Hunt to use the name Team Lotus, and he has announced that they will run their cars in black and gold.
Tl;dr! Tl;dr!
As it currently stands, the 2011 Formula One grid will have two pairs of Malaysian-backed cars named Lotus which will use the same colors in their liveries. To compound your headache, all these teams are based in England and both Lotus Renault GP and Team Lotus will use Renault engines. Expect further legal skulduggery and Life of Brian situations.
Photo Credit: Lotus Renault GP, Máté Petrány, Simon Miles/Getty Image, Darren, Pascal Rondeau/Allsport, Clive Mason/Getty Images