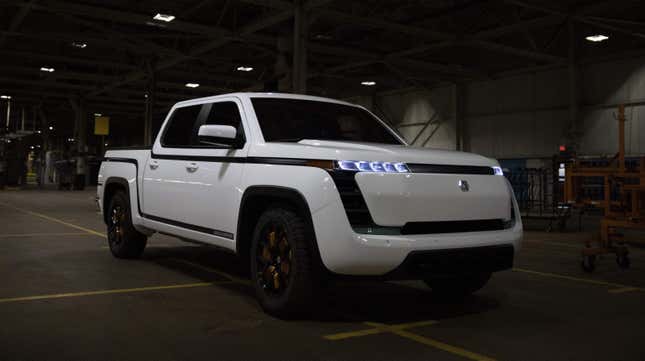 There are plenty of reasons that you probably don't want to spend money on a Lordstown Endurance, but the biggest one is probably the extremely high risk that the company will go under. Technically, the company has produced some Endurance pickup trucks, but earlier this month, Lordstown was saying it desperately needed a cash infusion, or it was going to go bankrupt. But even if Lordstown does turn things around, the Endurance's range is going to be a pretty big reason, too.
The Environmental Protection Agency has now released its range rating for the Lordstown Endurance, and it's pretty bad. The electric pickup truck only has 174 miles of range. And that short range is not because it has a small battery, either. The Endurance has a 109-kWh battery. For comparison, the Ford F-150 Lightning with the smaller 98-kWh battery has an EPA-estimated range of 240 miles. So yeah, it's not exactly competitive.
The big difference between the two ranges appears to be efficiency. The F-150 Lightning is rated at 68 MPGe, while the Endurance is rated at 48 MPGe. And it's not like the Lightning is designed to look like a bar of soap. Even though it employs a few tricks to make it more aerodynamic than it could have been, it's still boxy like a traditional truck. If you don't know what you're looking at, you could easily assume it's a regular gas-powered F-150.
Is it really going to matter if the entire company goes under soon? Nope. But if you were an investor who was considering stepping in to save Lordstown, would you want to put your cash on the line to save a company with a truck that can't even get 200 miles out of a 100-kWh-plus battery? We know we certainly wouldn't.